Best Villas to rent in Barbados
Best Villas To Rent In Barbados
23 Oct,2017
Best Villas to rent in Barbados
Are you looking for the best villas to rent in Barbados? Look no further. Here are some of our favourites:
CRYSTAL SPRINGS
Crystal Springs is without doubt one of the best villas to rent in Barbados. It is located on the beach front in 1.7 acres of private gardens. It is just a few minutes north of Holetown and is just a short drive to golf and tennis at Sandy Lane and Sugar Hill. Crystal Springs is an Oliver Messel designed house which is spacious and yet incredibly romantic.
With 10 spacious bedrooms this beautiful vacation home easily accommodates up to 20 guests. It can be rented at different rates on a 7, 8 and 10 bedroom basis.
In our view there are few properties in Barbados to match Crystal Springs. It is one of the very best villas to rent in Barbados. Although beautiful before, Crystal Springs has been renovated recently. The owners have lovingly updated it with authentic fabrics and furnishings which are true to its original Oliver Messel style.
Crystal Springs is set amongst beautifully landscaped mature gardens. It has fountains, pools and waterfall and views directly overlookig the crystal waters of the Caribbean Sea. It has a large swimming pool set amidst bougainvillea and shady mahogony trees.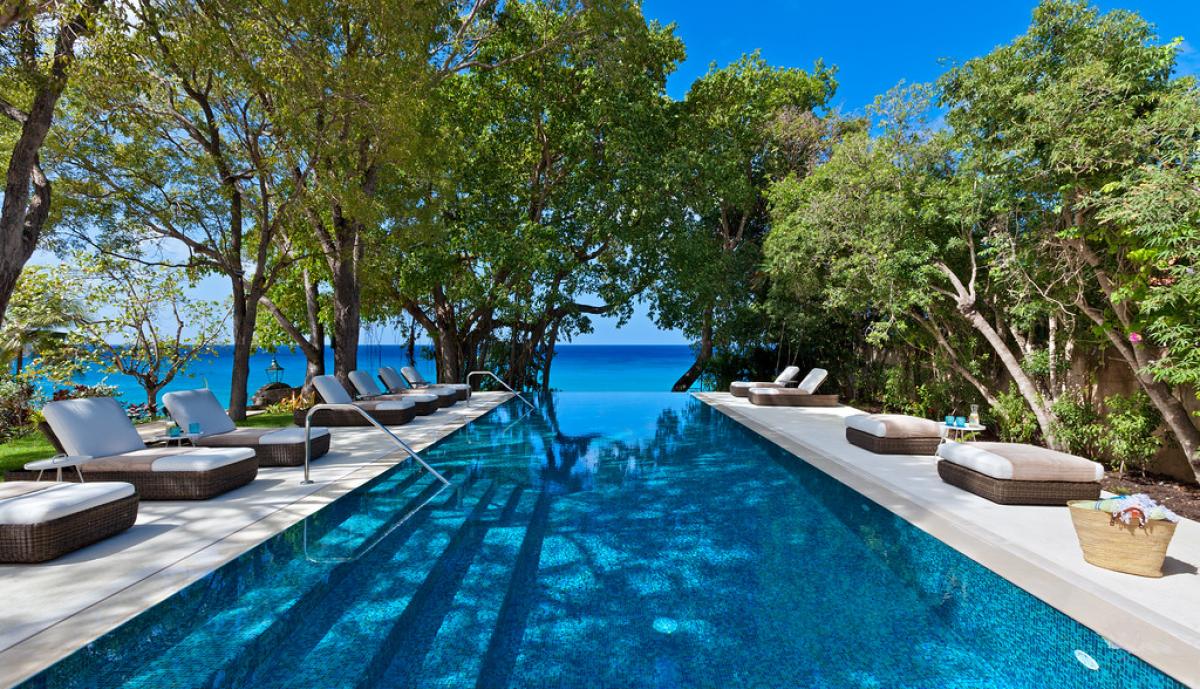 Oliver Messel re-designed Crystal Springs in the 1960s with coral stone floors, arches and columns accentuating the elegant ambience of this charming property.
The present owners purchased the home in 2013 and lovingly restored it to all its original splendour. They paid special attention to the villa's archetictural significance as one of Messel's most stunning creations.
All suites are equipped with 100% white cotton linens and local artwork. All rooms are light and breezy with beautiful views to the Caribbean sea.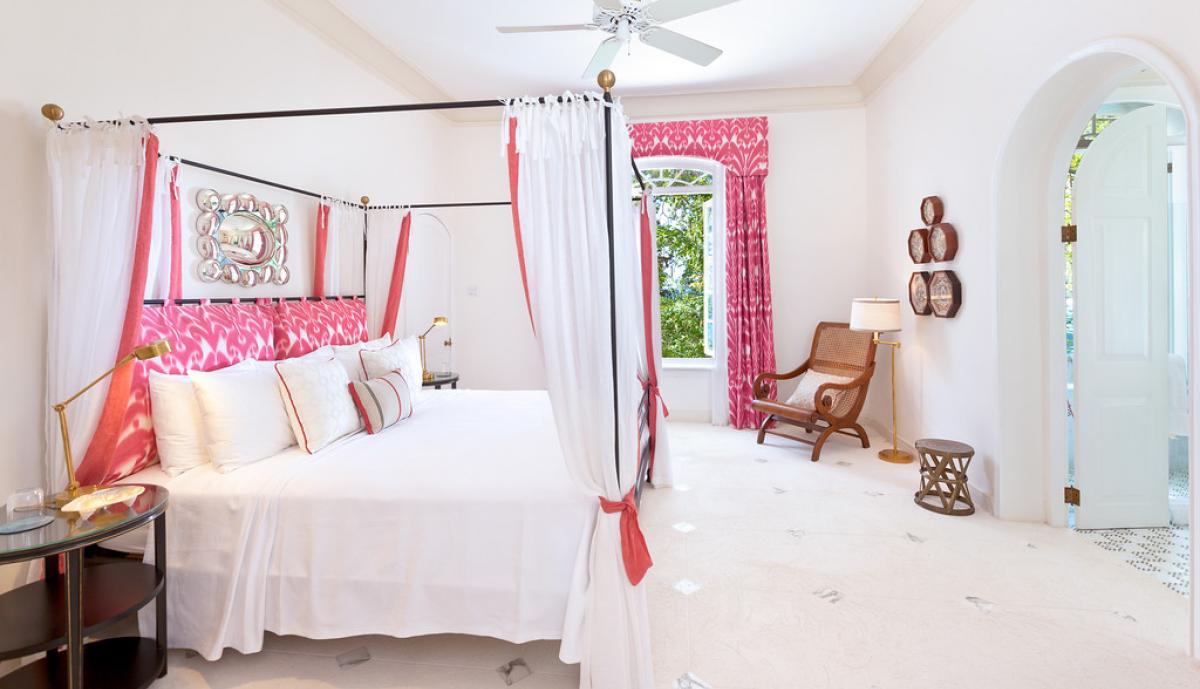 There are fitted wardrobes for ample closet space. All rooms are fitted with Jambox speakers by Jawbone and have flat screen televisons. Each bedroom has a ceiling fan and air conditioning.
The en suite bathrooms are all fitted with imported Italian marble and boast pampering touches such as seersucker robes, Acqua Di Parma toiletries and hair dryers. Four of the bathrooms feature fantastic open air showers and most of them have incredible views of the gully or Caribbean sea.
The home is equipped with an 18" speedboat for waterskiing and any other excursions. The boat master can also arrange for diving lessons and equipment rentals.
Crystal Springs has a heated infinity swimming pool which is lined with chaise loungers.
The property also has a modern fitness centre outfitted with Technogym equioment for those who want to keep up with their workout routines.
There is also a wonderful air-conditioned home cinema with theatre style chairs and large screen. There is even a old time popcorn machine.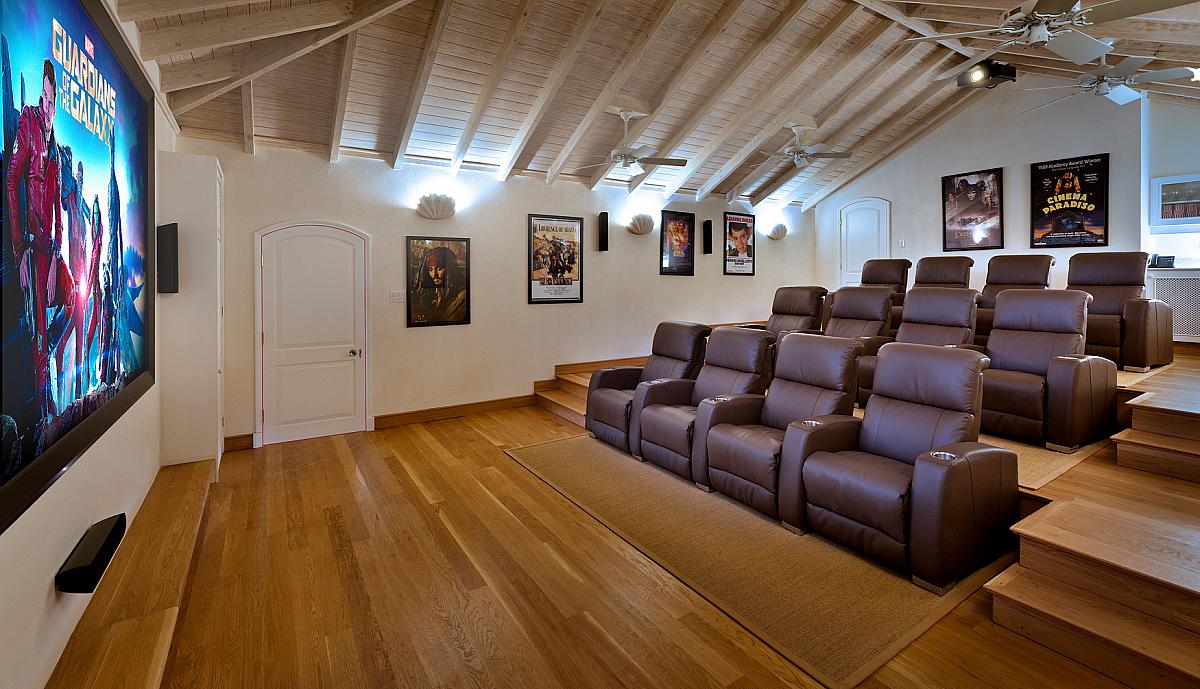 The staff at Crystal Springs have been with the estate for years. Staff include a butler, cook (with assistant), boatmaster, housekeepers and laundresses. They will ensure your stay will surpass your every expectation. Their attention to detail and exceptional service is second to none.
This villa is in the heart of the West Coast and is which easy reach of restaurants, world-class shopping and nightlife.
Other Amenities:
• Digital TV/Cable
• DVD player
• VCR
• Home Theatre
• Cable TV
• Satellite TV
• Stereo
• Gym - (in house)
• High Speed Wireless ADSL (Broadband)
• Fax Machine
Crystal Springs can be rented on a 7 bedroom, 8 bedroom or 10 bedroom basis. Rates for the villa on a 7 bedroom basis start from US$ 7,245 per night.

If you would like to read more about Crystal Springs click here
DUDLEY WOOD
Dudley Wood is a very popular rustic style villa located on the tranquil and unspoilt Gibbes Beach. We think it is one of the best villas to rent in Barbados. It is perfect for families who wish to be on the beach.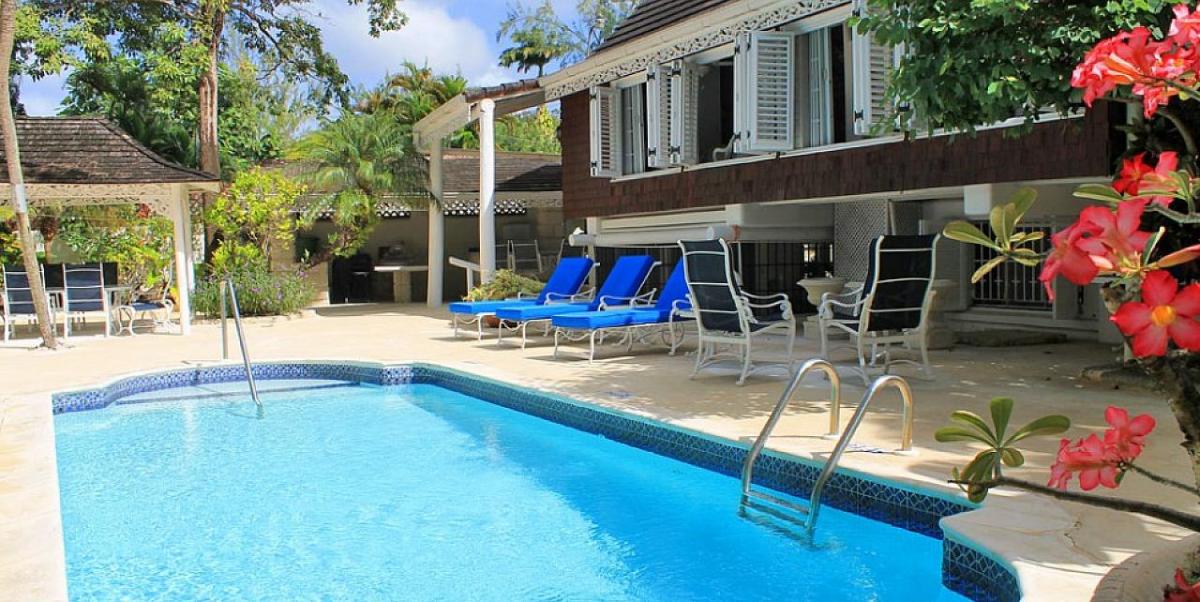 This charming chalet style beach house is built of bleached timber. It has a shingle roof and a unique rustic ambiance.
You enter the villa at mid level over a small wooden bridge which leads from the off road parking area into the main living area.
This level and the upper floor are built entirely of wood. There are wooden floors, walls and exposed pickled pine ceilings. An informal sitting area with Cable TV and DVD has been recently decorated to provide laid-back comfort.
Towards the beach are large picture windows, and shutters that open to provide excellent pool and sea views (child safety bars have been installed for use as required).
Two of the bedrooms are located off the sitting room; the master bedroom and a second bedroom are both en suite with king size beds.
A spiral staircase connects all floors and leads up to a charming third bedroom with king size bed. This is located in the loft space. This has an en suite bathroom with shower. All bedrooms are comfortably furnished with air-conditioning.
The spiral staircase also leads downstairs to a well equipped kitchen, with a small dining alcove, and the fourth bedroom with an en suite bathroom (note this bedroom is suitable for single occupancy only). A door leads out to the enclosed garden, which is surrounded by mature trees, providing shade and privacy. There is a good size swimming pool and deck with sun loungers. Adjacent to the pool and deck is an alfresco dining area with a gazebo and another covered area features a built-in coral stone bar and a barbecue.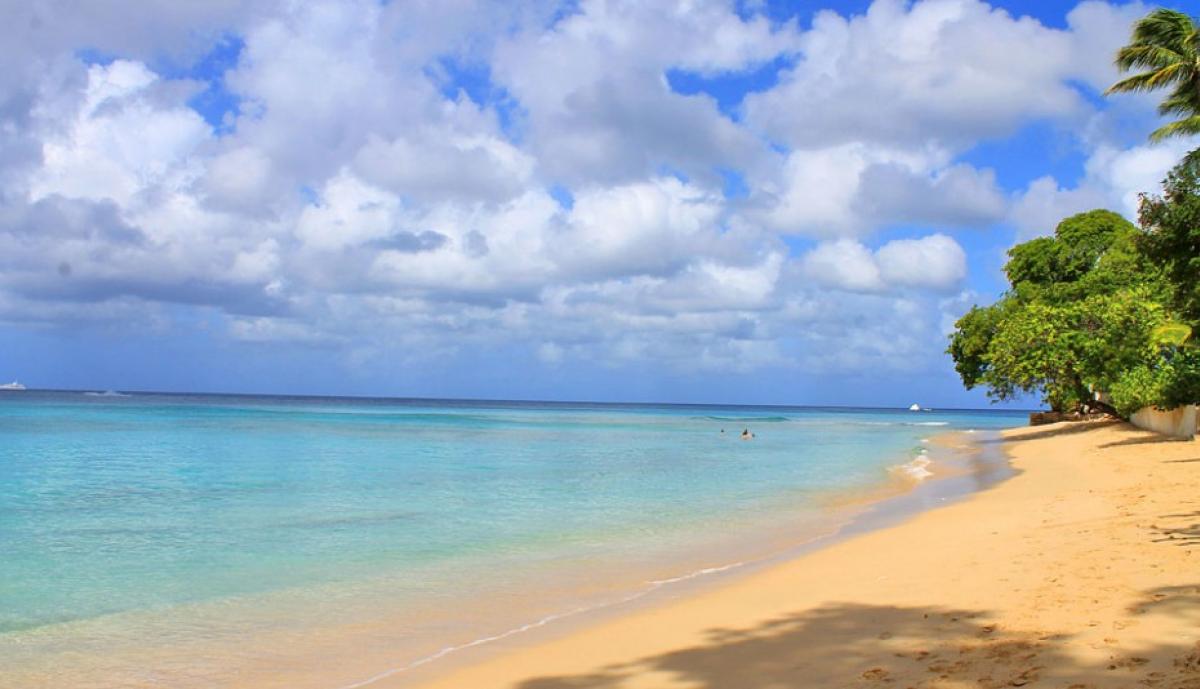 A gorgeous stretch of beach is just a few steps away, through an arched gateway, with a wall mounted shower for rinsing off and crystal blue water that is excellent for swimming.
Dudley Wood rents from US$875 per night (US$6,125 per week) to US$1,500 per night (US$10,500 per week) except during the Christmas/new year season when rates are US$2.300 per night (US$16,100 per week).
If you would like to read more about Dudley Wood click here.
If you are only looking to rent vacation homes on the beach visit barbadosbeachhouses.com
If you are looking for a property to buy in Barbados visit Barbadosdreamproperties.com
To hear about the very best villas to rent in Barbados contact us today
Address
Barbados: +246-432-6307
Email: [email protected]
Barbados : Indigo Courtyard, Holetown
UK:40 Knutsford Road, Alderley Edge, SK9 7SF