Super luxury villas to rent in Barbados
There are a good selection of super luxury villas to rent in Barbados.
If you are looking for super luxury villas to rent in Barbados just contact us today and a member of our experienced team will be happy to assist.
Here are some of our favourite super luxury villas to rent in Barbados.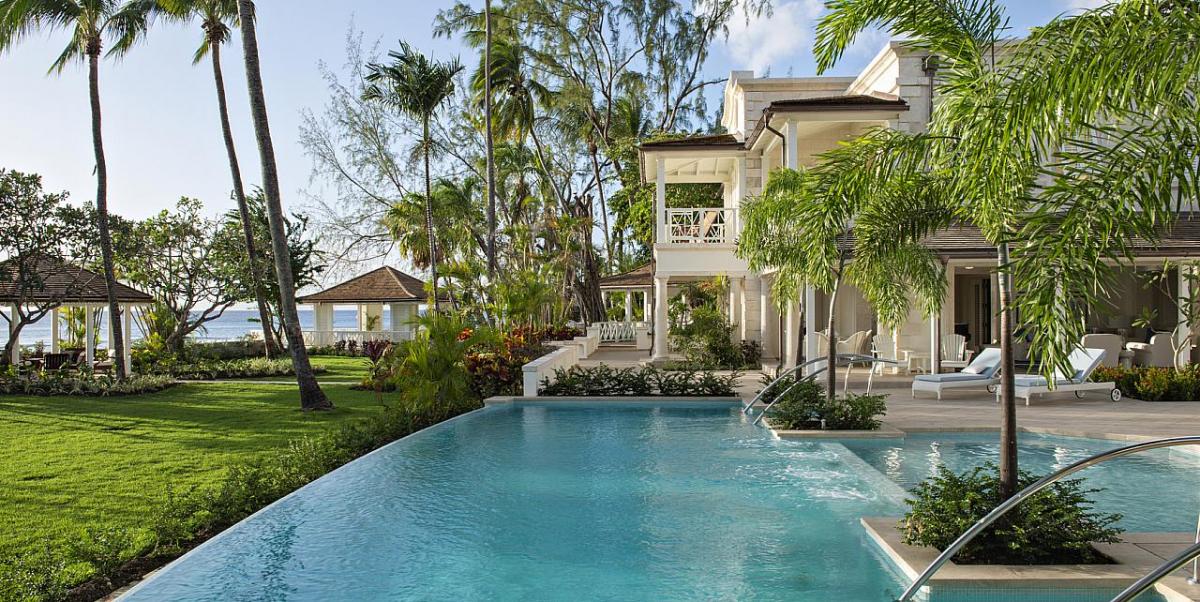 The Great House is in a wonderful beach front location set in private lush tropical gardens. It has recently had extensive renovation and redesign. 12 bedrooms, private pool, tennis court, gym and spa Boat and boatman included. The team of staff run this villa like clockwork. Excellent chefs will whisk up divine breakfasts, lunches and dinners.
The Great House offers 12 double bedroom suites. With the right configuration for families with children it can accommodate up to 30 guests. This superb, modernised West Indian style plantation house is nestled amongst swaying palm trees on the beachfront in the parish of St Peter. It has its own large private swimming pool.
The Great House has recently undergone an extensive renovation. With its new yet classical bathrooms and bedrooms it is now one of the most exclusive properties beachfront in the Caribbean. The gardens extend to around two and a half acres.
The Great House may be rented on an 8 to 12 bedroom basis (with price adjusted accordingly).
The Great House is probably the most beautiful beach front estate available to rent in Barbados.
We conside this villa to be one of the finest super luxury villas to rent in Barbados.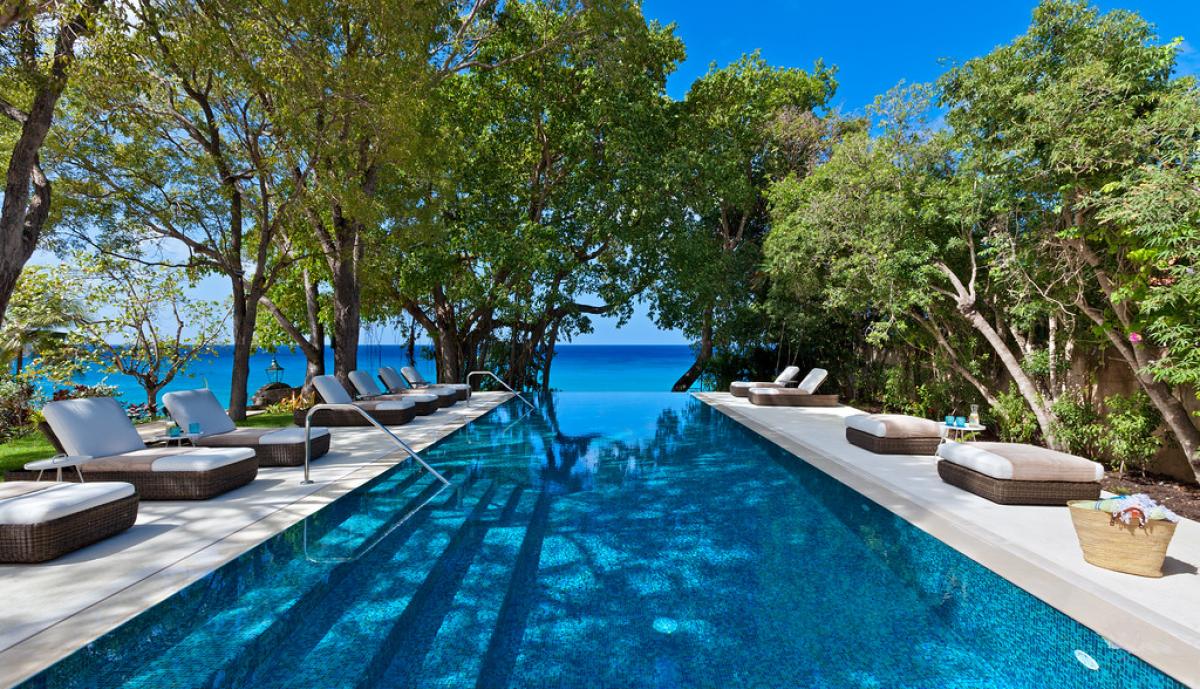 Crystal Springs is one of the most romantic villas in Barbados. It was designed by world acclaimed Oliver Messel and has recently been beautifully renovated. With trompe d'oeil, its own beach and use of boat it is set in lush gardens with it's own waterfall. Just steps away from the beach and so close to all the local amenities!
It comes fully staffed with butlers, chefs, housekeepers and laundresses, boatman and night security guards.
Crystal Springs offers 10 bedrooms and sits on 1.7 acres of beachfront estate. It offers accommodation in Barbados for up to 20 guests.
It is located between Speightstown and Holetown. It is in an ideal postion for shopping. Crystal Springs is also just a short drive to golf and tennis at Sandy Lane or Sugar Hill.
Crystal Springs Barbados is set right above the Caribbean Sea amongst landscaped mature gardens. It has fountain pools and waterfalls. Its views directly overlook the crystal blue Caribbean sea and a white sandy beach. The beach is just a few steps down.
Of all our super luxury villas to rent in Barbados Crystal Springs is probably the most romantic.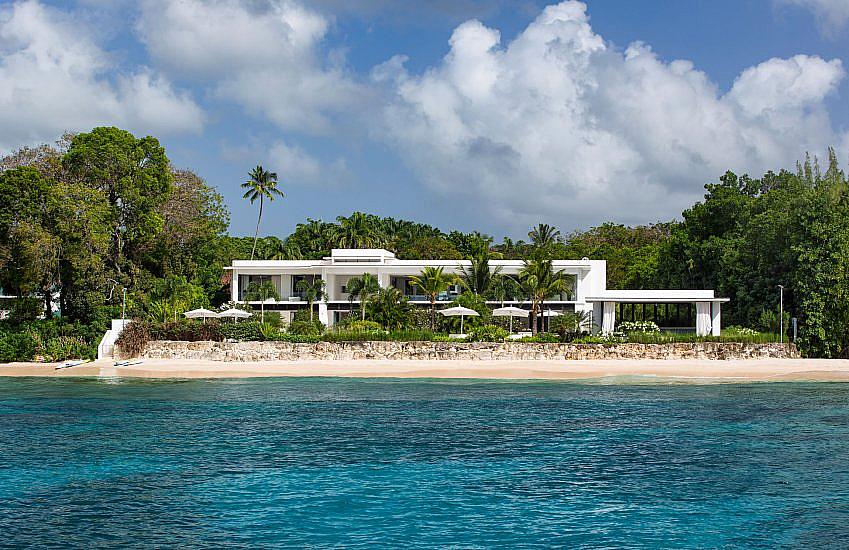 Villa Alaya Barbados is the ultimate in luxury villa rentals. Alaya offers 6 stunning bedroom suites in the main house and a further 3 bedrooms split between two separate apartments. There are 9 bedrooms in all. It can be rented on a 6 to 9 bedroom basis. There is a magnificent master suite and five luxurious guests suites in the main house. There are also two separate apartments( 2 bed and 1 bed) in a separate building alongside the entrance.
Villa Alaya provides discerning guests with everything they need and more. It is stylishly furnished with high quality designer furnishings throughout. There is a seamless blending of indoor and outdoor living. the array of facilities on offer match those of a small boutique hotel.
Villa Alaya sits on 1.75 acres of breathtaking beachfront on the Platinum West Coast of Barbados. It is located at the end of an extremely private road. The quiet and secluded location provides an ideal luxury hideaway. It is just a mile north of Holetown's golf courses, polo, luxury shopping, restaurants and other popular attractions.
Villa Alaya offers guests a truly unique experience. It comes with a full team of staff including a Michelin star chef to cater for your every desire. The rate also includes all meals, snacks and beverages. As well as quality house wines & champagne and a fully-stocked bar. The only additional expenditure is for any off site activities or any spa treatments arranged. To further enhance your luxury villa experience guests may enjoy the use of a 'Vespa' a Vanquish VQ54 boat with skipper along with two chauffeured Audi Q7s.
In terms of location, service and 'extras' Alaya is one of our most exclusive super luxury villas to rent in Barbados.
SANZARU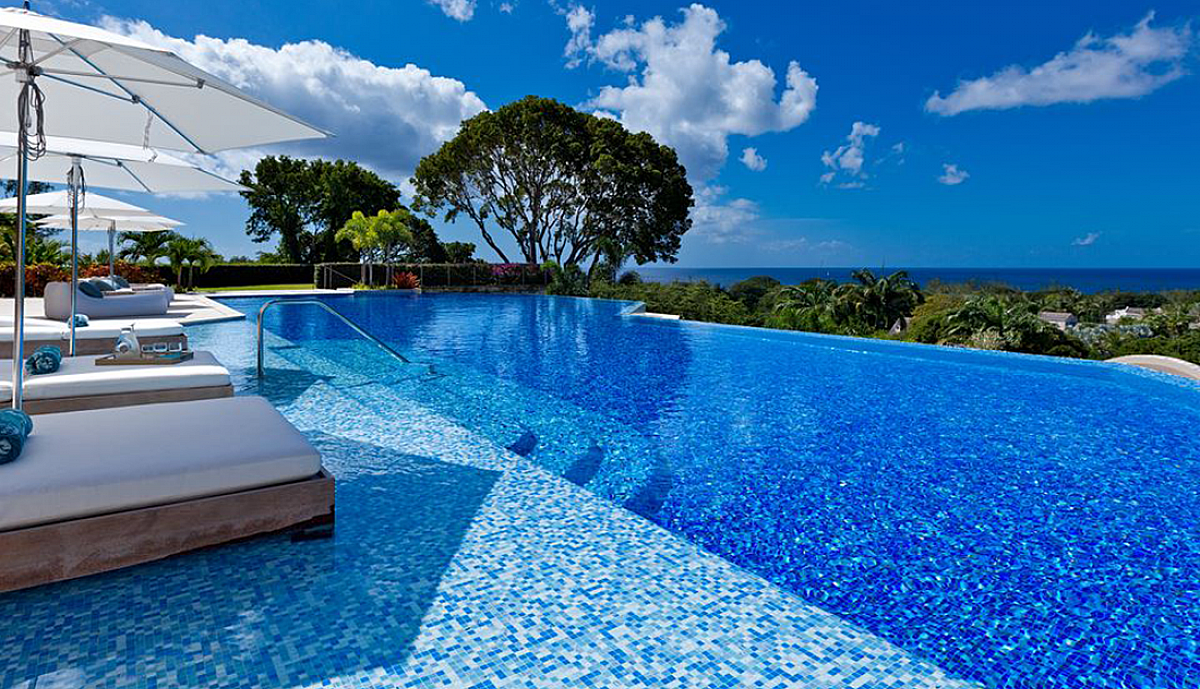 Sanzarus is one of the most stunning villas in the Caribbean. It enjoys wonderful views over the Caribbean. Magnificent design and furnishings. A truly spectacular 11 bedroom home in Sandy Lane. It offers the privacy of a home with the service you would expect from a world-class hotel. The best of both worlds.
Sanzaru is located in Sandy Lane. It has a total of 11 luxurious bedrooms. These are spread between the main house and a charming self contained cottage. Few homes in Barbados match the luxurious standards of this beautiful home.
The house is enormous with 21,000 sq ft of space. It is able to accommodate up to 24 guests.
This is a villa that you could only dream about. Recently completed and furnished to exacting standards it is one of the most elegant, comfortable and tranquil super luxury villas to rent in Barbados. It provides a combination of privacy and luxury where an experienced team of staff will attend to your every need.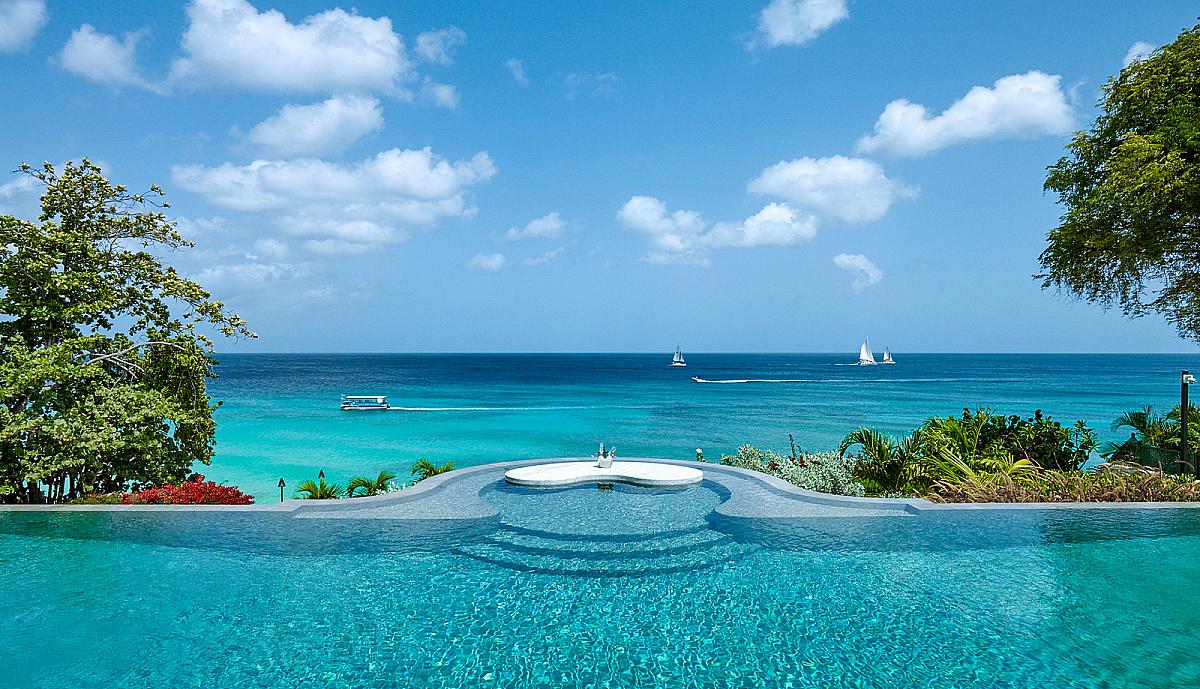 Seaclusion is one of the most outstanding beachfront villas in Barbados. It is located on the west coast. This 6 bedroom villa is set in an acre of tropical gardens. It is perched on a bluff overlooking the Caribbean Sea.
This extraordinary home features unparalleled sea views from all living areas. It also enjoys sea views from 5 of the 6 bedrooms.
The property has recently been completed and furnished. It has been stylishly interior designed. Its classical, elegant interiors provide an ambiance of calm and relaxation. There is even a grand piano at this beautiful home.
The lovely cocktail bar is the perfect spot to enjoy cocktails. It overlooks the sea and the fabulous Caribbean sunsets.
There are substantial living and reception areas. Seaclusion also has a media room and formal dining room. It has a state of the art fully equipped kitchen. There is also a fitness room.
The set up at Seaclusion is perfect for outdoor living. It is ideal for those wishing to entertain.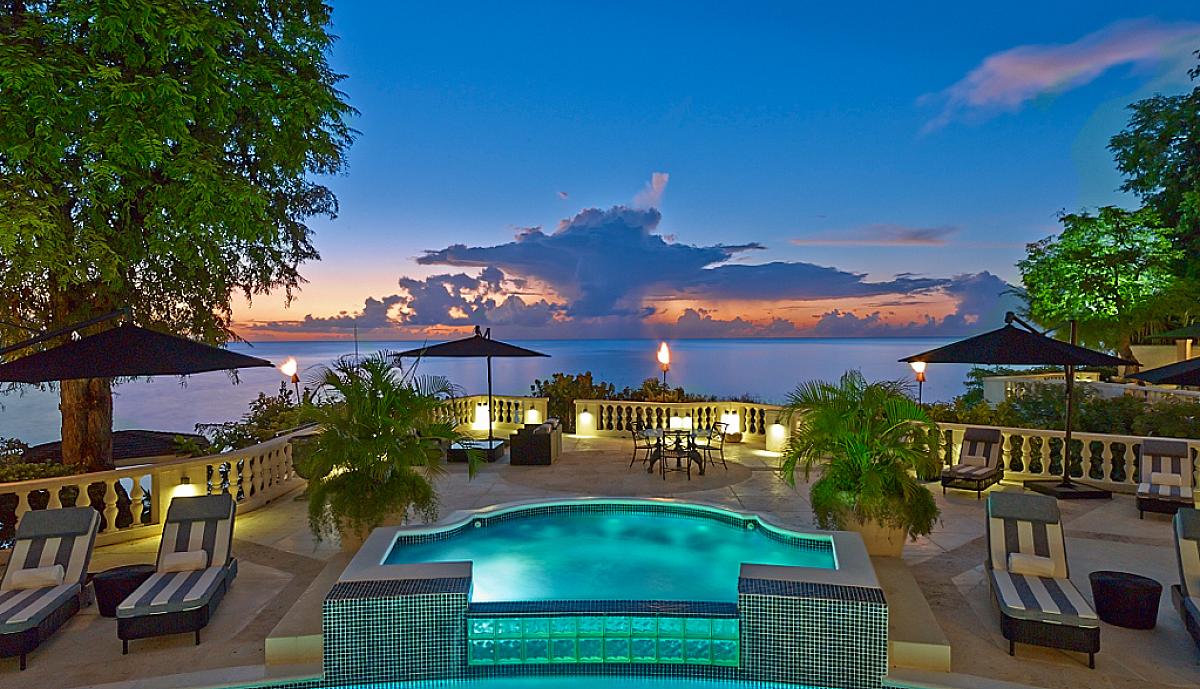 Cove Spring House provides the ultimate in luxury villa living in Barbados. It is a magnificent 10 bedroom luxury villa. It is set in a fabulous ocean front location with views over the sparking Caribbean Sea.
Not only is this stunning property on the beach it is also close to all the amenities of Holetown. Cove Spring House is just a short drive from some of the best restaurants in Barbados.
For those who want luxury in a fabulous beach front location look no further.
The staff at Cove Spring House provide guests with immaculate service. Staying here is like staying in a mini luxury hotel. Guests are made to feel totally relaxed and welcome. You can just sit back and enjoy your dream vacation.
Cove Spring House has hosted many of the rich and famous. Discerning clients where only the best will do.
With 10 double bedrooms it is ideal for large families and groups of friends. It is also an excellent choice for those hosting a corporate event. Perfect too for those planning a wedding in Barbados.
Cove Spring House is exquisitely furnished. There are Indonesian day beds for relaxing on and luxury double Thai loungers. It deserves its place in any compilation of super luxury villas to rent in Barbados.
Add friendly unobtrusive Barbados staff to take care of your every need. What more could you wish for?
Striking and stylish, Godings Beach House is a newly built, ultra exclusive 5 bedroom beach house. It boasts all of the facilities that you would expect from a rental villa of its calibre. Godings Beach House sits directly beside the beautiful golden sands of Godings Bay. It is located on the island's much sought after West coast.
You will enter this expansive 5 bedroom, home from home, through its colonial gates and tranquil tropical gardens. Your first view beyond the immaculate open living space is to the breathtaking blue of the Caribbean sea and the crystal clear waves gently caressing the shoreline.
Godings Beach House has been beautifully decorated. The ground floor is bright and open plan throughout. There are huge windows which foster a calming sense of being at one with your natural surroundings.
This home is rented with a full complement of staff. These include butler, cook, housekeeper, laundress, night security and gardener.
Godings is one of our most popular super luxury villas to rent in Barbados. It is a tranquil and relaxing place to stay.
If you are looking for super luxury villas to rent in Barbados contact us today. A member of our team will be happy to guide you through our collection of super luxury villas to rent in Barbados.
For properties to buy in Barbados visit barbadosdreamproperties.com
For long term rentals in Barbados visit longtermrentalsbarbados.com