Luxury villas in Barbados
LUXURY VILLAS IN BARBADOS
If you are looking for a range of luxury villas in Barbados here are some of our favourites:
VILLA IRENE
Villa Irene is a beautiful villa on the west coast of Barbados. It is located on a ridge just a few minutes drive from Holetown. Villa Irene has wonderful sea views. Made of timber with a shingle roof this pretty villa is very good value.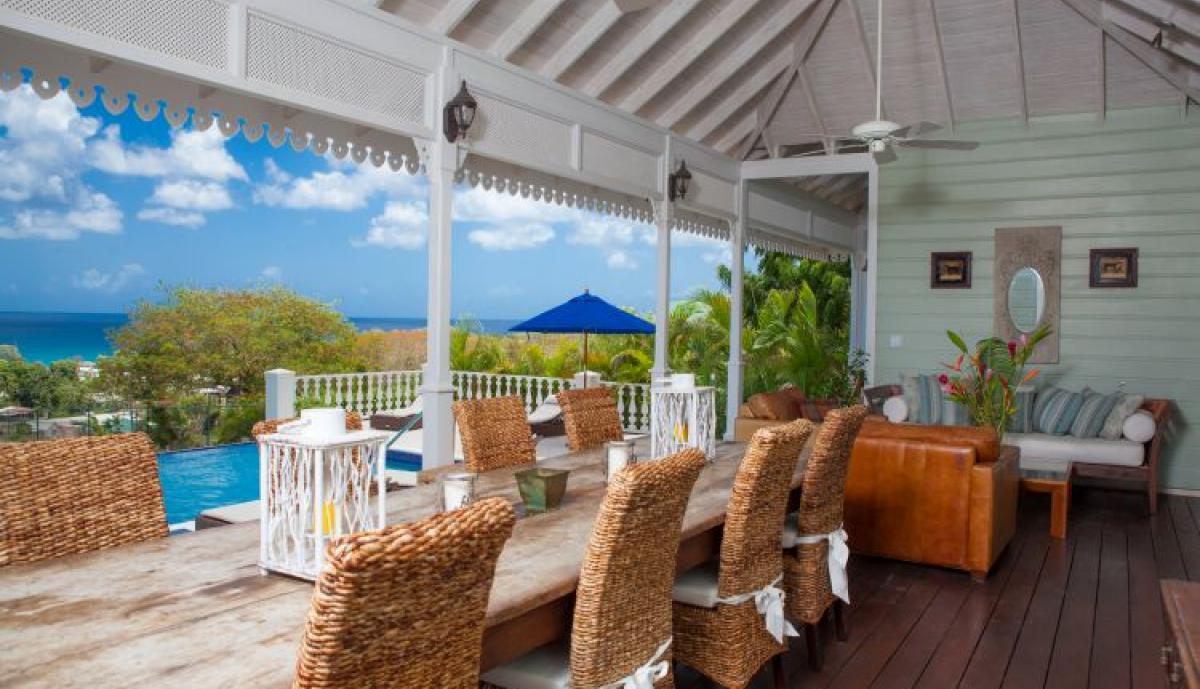 It can be rented on a 3 or 4 bedroom basis and sleeps up to 10 people. There are three double en-suite bedrooms. The fourth room is a bunk room which is ideal for kids and/or teenagers. The bunks are almost double size and the room has an en suite bathroom. It is air conditioned and is furnished with a flat screen TV and sofas. Villa Irene sleeps up to 10 people.
This villa comes with housekeeping 3 days a week. It rents for from US$750 per night.
To see more about Villa Irene click here
VILLA MELISSA
Villa Melissa is a delightful 5 bedroom property. All bedrooms have en-suite bathrooms. There are 3 double bedrooms in the main house and 2 double bedrooms in the separate cottage. This lovely rental home sleeps up to 10 people. It is just a 3 minute walk from the beach down a lovely beach path which leads to the beach by Heron Bay and Colony Club.
Villa Melissa is ideally located just a few minutes drive from Holetown. It is walking distance fom the famous Lone Star restaurant and from Coral Reef Club.
Villa Melissa has a large pool in an extensive walled garden. It even has its own pool bar aptly named 'Chubs' One Love Bar.'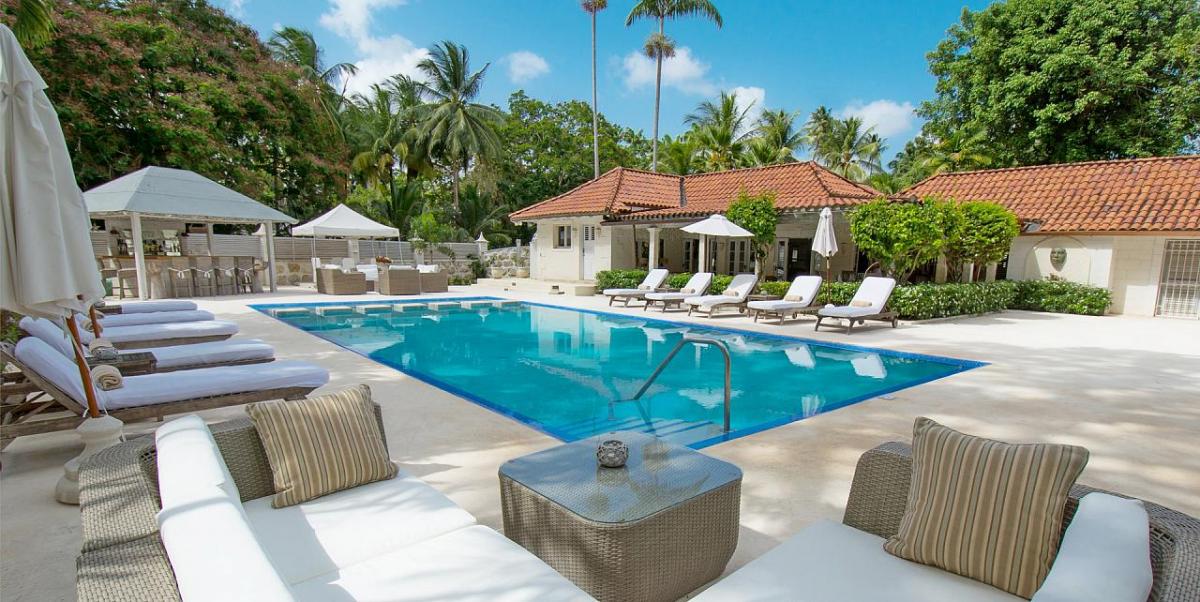 One of the beauties of Villa Melissa is that it has 2 master bedrooms. One in the main house and one in the cottage. The main bedroom in the cottage is constructed from natural coral stone. There are even fossils evident in the walls. It is truly stunning.
This delightful property comes with butler, cook and housekeeper. It rents from US$1,095 per night. It is one of our most popular luxury villas in Barbados.
To see more about Villa Melissa click here.
TRADEWINDS AT ROYAL WESTMORELAND
Tradewinds is an impressive 4 bedroom villa located on the west coast of Barbados in Royal Westmoreland. Royal Westmoreland is a secure, gated community just a few minutes drive from Holetown. Guests have access to the beach facility at Mullins Beach which is a short drive away.
This lovely holiday rental has breath-taking views across the immaculately groomed golf course to the Caribbean Sea.
It has extensive gardens and a large, stylishly furnished pool side terrace. The pool is set within a secluded garden with stunning views. There are two en-suite bedrooms on the ground floor. One is furnished with a Queen sized bed and the other is furnished with an Imperial sized bed.
Upstairs there are a further two master double en-suite bedrooms. These are both large rooms which open onto a private terrace. A wonderful place to relax and enjoy the spectacular views.
Guests of Tradewinds will enjoy full access to the first class recreational facilities of Royal Westmoreland. These include a world class golf course and floodlit tennis courts. They may also enjoy the excellent gym and fitness centre, spa and clubhouse. There is also a large resort pool and dining facilities at the members club house.
The owner of Tradewinds offers 2 rounds of golf per rental period. This can be used individually or as a round for 2 people split into 9 holes as required.
Horse racing enthusiasts are offered complimentary use (for up to 8 persons) of the members lounge at the owner's reserved table at the Garrison Savannah. A bottle of champagne will be provided if guests do wish to attend the races.
This lovely property comes with house manager and cook/housekeeper.
Tradewinds rents from US$1,750 per night.
For more information on Tradewinds click here
To see more luxury villas in Barbados to rent visit Barbadosdreamvillas.com
If you are looking for long term rentals visit longtermrentalsbarbados.com
To see properties for sale in Barbados visit Barbadosdreamproperties.com