Contemporary villas in Barbados
We are frequently asked for contemporary villas in Barbados which are available for holiday rental.
There are many beautiful villas to rent in Barbados. Here are some of our most popular contemporary villas in Barbados.
Atelier House is one of our stunning 4 bedroom contemporary villas in Barbados. It sits on a ridge near Carlton and has stunning views over the west coast.
This beautiful architecurally designed home is one of the few 'Ibiza style' contemporary villas in Barbados.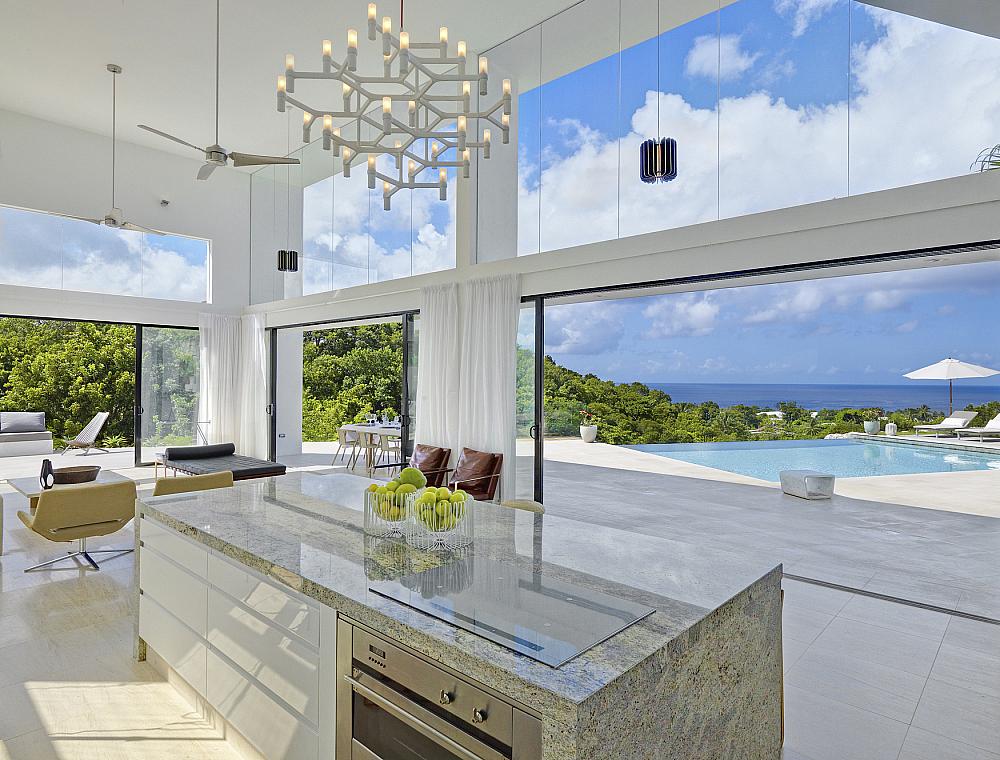 The master bedroom is on the first floor. It has its own private terrace and magnificent views to the sea. It also has its own en suite bathroom.
The 3 further bedrooms are on the ground floor. One has its own en suite bathroom and has a feature outdoor bathtub. The other 2 bedrooms share a bathroom.
The private infinity edge swimming pool is surrounded by a large pool deck.
Atelier House is a wonderful house for entertaining. It has ample outdoor space and two stunning kitchens.
Atelier House is rented with a full complement of staff. These include chef, housekeeper and laundress. There is also a property manager available.
Atelier House rents from USD1,500 per night.
If you would like more information on Atelier House click here
Contact us today for details of other contemporary villas in Barbados.
Godings Beach House is another of our contemporary villas in Barbados.
Godings Beach House is striking and stylish. It is a newly built 5 bedroom beach house. It offers all the facilities you would expect from an ultra luxury villa rental.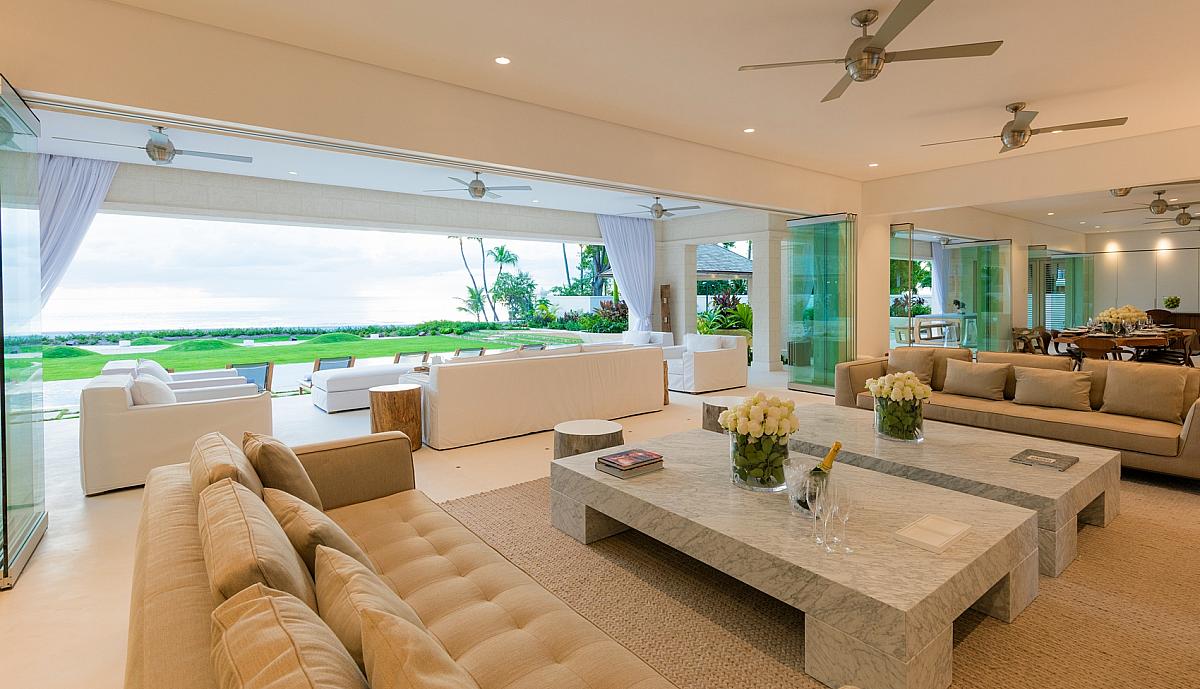 Godings Beach House sits directly beside the beautiful golden sands of Godings Bay. It is located on the island's much sought after West coast.
You will enter this expansive 5 bedroom, home from home, through its colonial gates and tranquil tropical gardens. Your first view beyond the immaculate open living space is to the breathtaking blue of the Caribbean sea. Sit back and enjoy the view of the crystal clear waves gently caressing the shoreline.
Godings Beach House has been beautifully decorated and there are vases overflowing with white roses all over the living areas.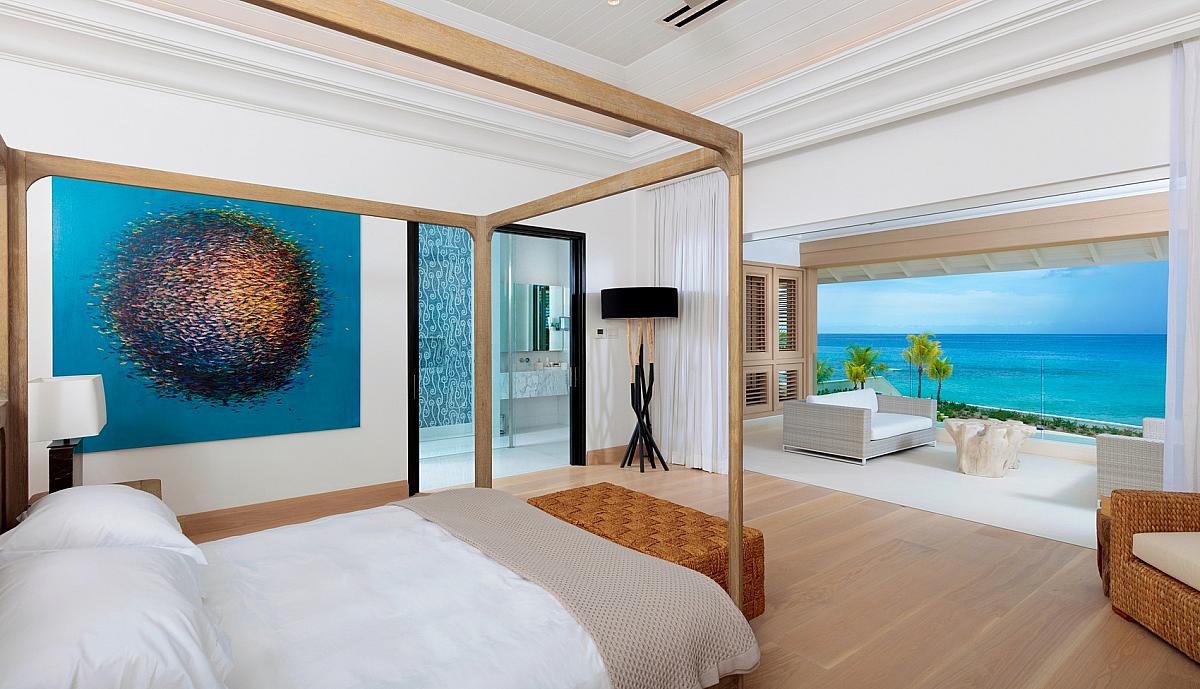 The ground floor is bright and open plan throughout. The huge windows foster a calming sense of being at one with your natural surroundings.
A large and comfortable living room enjoys a cooling breeze and captivating views of the sea.
Running parallel to the living room is a 25 metre long pool, enclosed by a limestone deck. Here comfortable sun loungers provide the perfect space to relax.
Grand staircases stand at either end of Godings Beach House. These are dressed by chandeliers made of delicate seashells. They sway and whisper as the cooling trade winds flow through the house.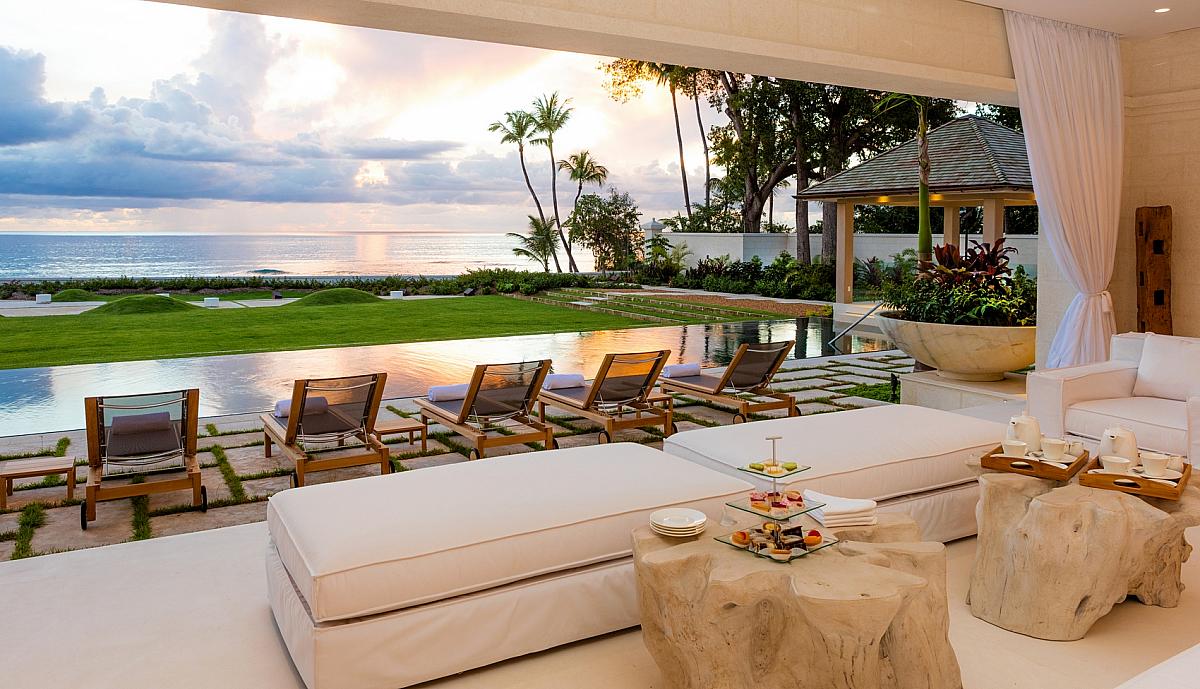 To the first floor are five good sized double bedrooms, some of which have four poster beds. These showcase further the stunning views of the sea.
The master bedroom features a large circular bathtub with floor to ceiling windows and commanding views.
When rented the rate for Godings Beach House includes a full complement of staff. These include a butler, cook, housekeeping, laundress, gardener (with pool maintenance) and night time security from 7 pm to 7 am . There is a House Manager and a full concierge as required.
The Dream is a stunning 5 bedroom beachfront villa in Barbados. It is one of our favourite contemporary villas in Barbados.
The Dream mixes contemporary, cutting edge design with Caribbean chic. It is one of the most luxurious of our contemporary villas in Barbados.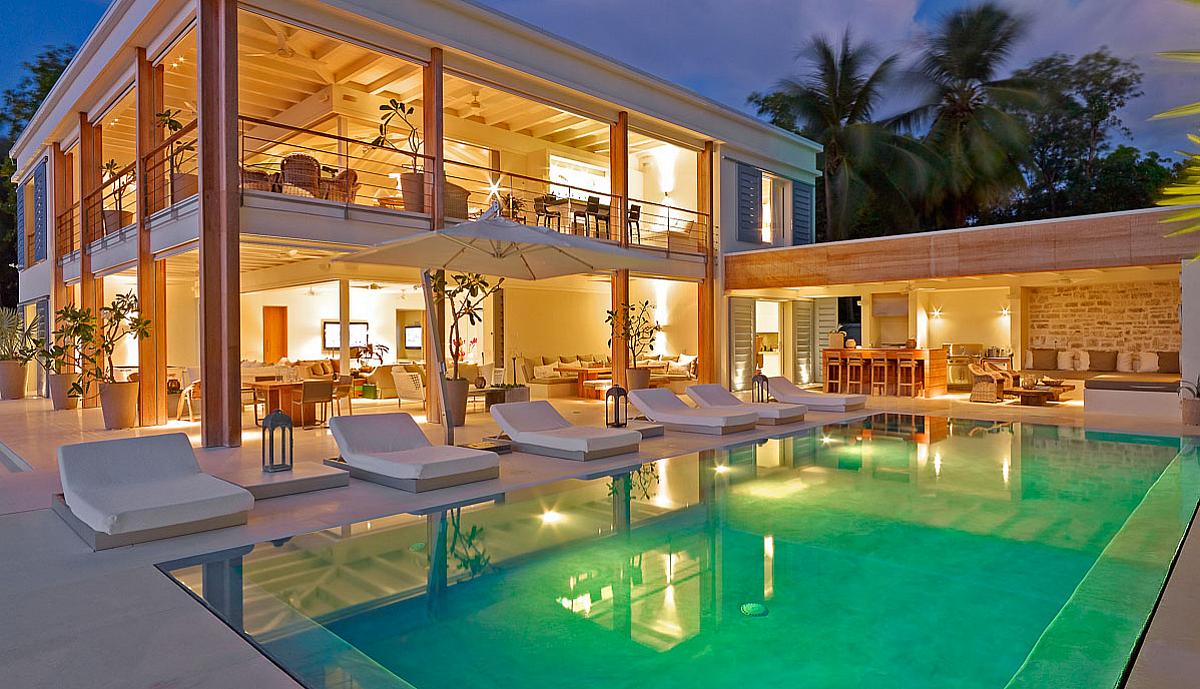 The comfort, facilities and staff at the Dream Barbados offer a lifestyle and holiday experience unparallelled on the West Coast of Barbados.
It is set at the end of a private drive offering a quiet and tranquil retreat. Yet it is also within easy reach of the West Coast's top amenities.
This beautifully renovated beachfront villa is tastefully furnished. It is an exquisite mix of Caribbean fused with Ibiza styles. All the furniture is luxurious and in calming peaceful colours. The finishes throughout are high end.
Every single item of furniture you see in this fabulous villa has been carefully selected from around the world. It is done in a natural style with bleached woods and the colours are taupes, cream and pale blues and turquoises.
The villa has been designed with relaxation and entertaining in mind. The views over the sea are simply spectacular.
Just a short drive from Holetown, all the amenities available there are on offer. These include world class shopping, banks, restaurants, cafes and cinema.
World famous restaurants like The Cliff and Lone Star are just a short drive away. It is also close to trendy night spots and a selection of competition golf courses.
There are five luxurious, air conditioned and tastefully furnished bedrooms. All bedrooms have en suite bathrooms. The bedrooms are equipped with security safes, flat screen TVs, DVD players and iPod docking stations.
The master bedroom suite is located on the upper level of The Dream and it has its own private, romantic terrace. The terrace overlooks the glistening waters of the Caribbean Sea.
The private swimming pool is a stylish 45" infinity edge swimming pool.
There is a lovely outdoor seating area complete with pizza oven, BBQ, bar and chill out area.
There is also a sunbathing terrace furnished with large sun loungers and umbrellas.
There is glamorous lighting to illuminate the outdoor living areas and pool. This sets the scene perfectly for watching the beautiful sunsets.
Guests at The Dream also have direct access to the beach. Here the white sands and aquamarine water awaits you.
Your stay here will simply make for a holiday of a lifetime.
To book this villa or any of our other contemporary villas in Barbados contact us today.
For villas to rent on the beach in Barbados visit barbadosbeachhouses.com
For long term rentals in Barbados visit longtermrentalsbarbados.com
For properties to buy in Barbados visit barbadosdreamproperties.com