Best beach villas in Barbados
BEST BEACH VILLAS IN BARBADOS
Here are some of our best beach villas in Barbados.
CRYSTAL SPRINGS
This is, without doubt, one of the most beautiful and best beach villas in Barbados. This stunning property has recently been sympathetically renovated and it has never looked better.
It is a 10 bedroom villa located on the beach just a few minutes drive from Holetown.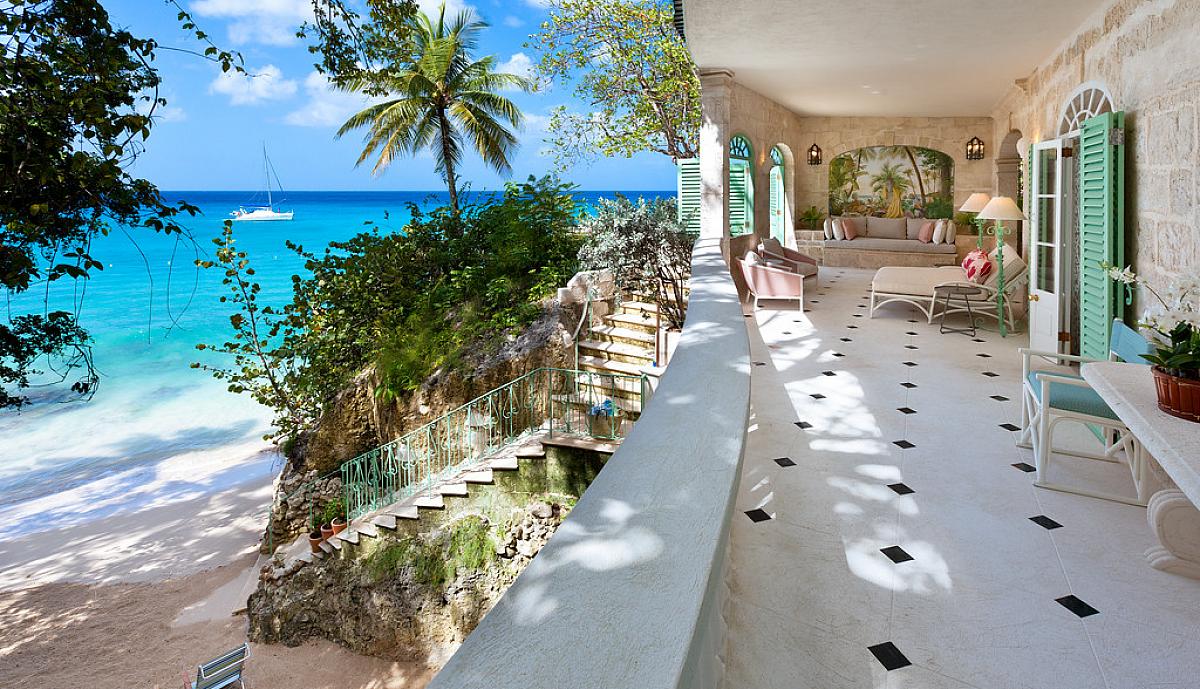 This beautiful vacation home is set in 1.7 acres of mature gardens. Designed by world renowned Oliver Messel this villa is one of the most romantic and most beautiful villas in Barbados.
Crystal Springs can be rented on a 7 to 10 bedroom basis. It comes with an 18 foot speedboat for water skiing and excursions. The boat is driven and looked after by the boat master.The boat master can also arrange diving lessons and equipment rentals.
Crystal Springs has a number of beautiful places to dine.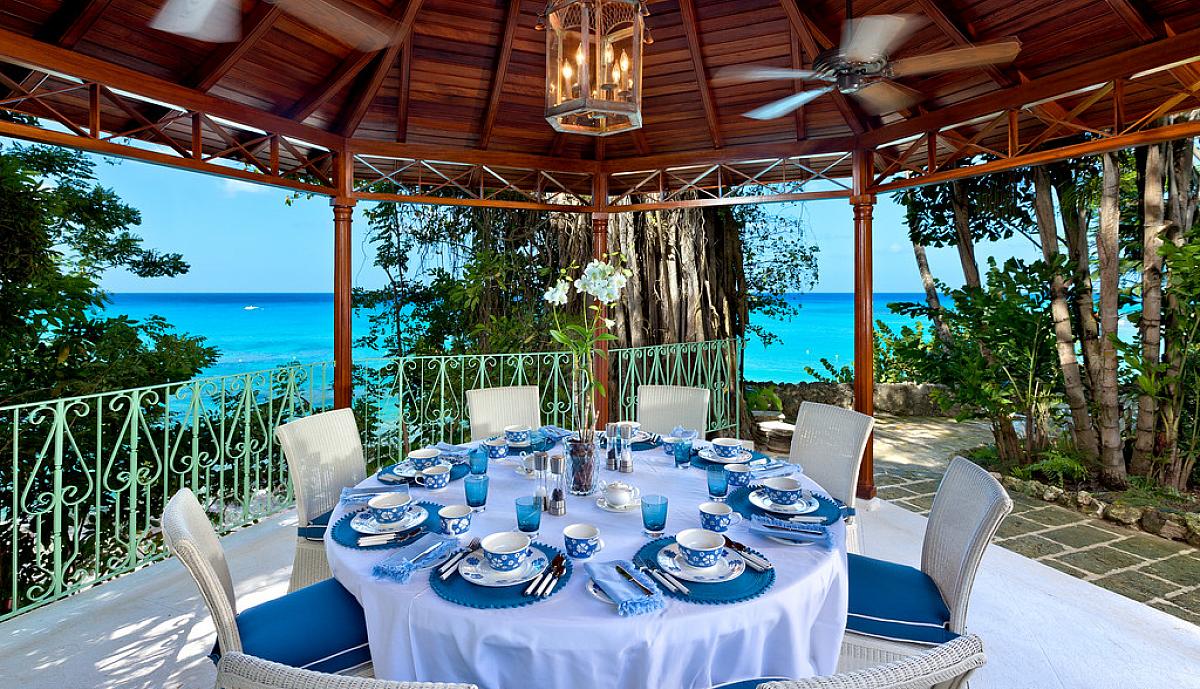 All 10 bedrooms have en-suite bathrooms and all are airconditioned. All rooms are light and breezy with wonderful views of the sea.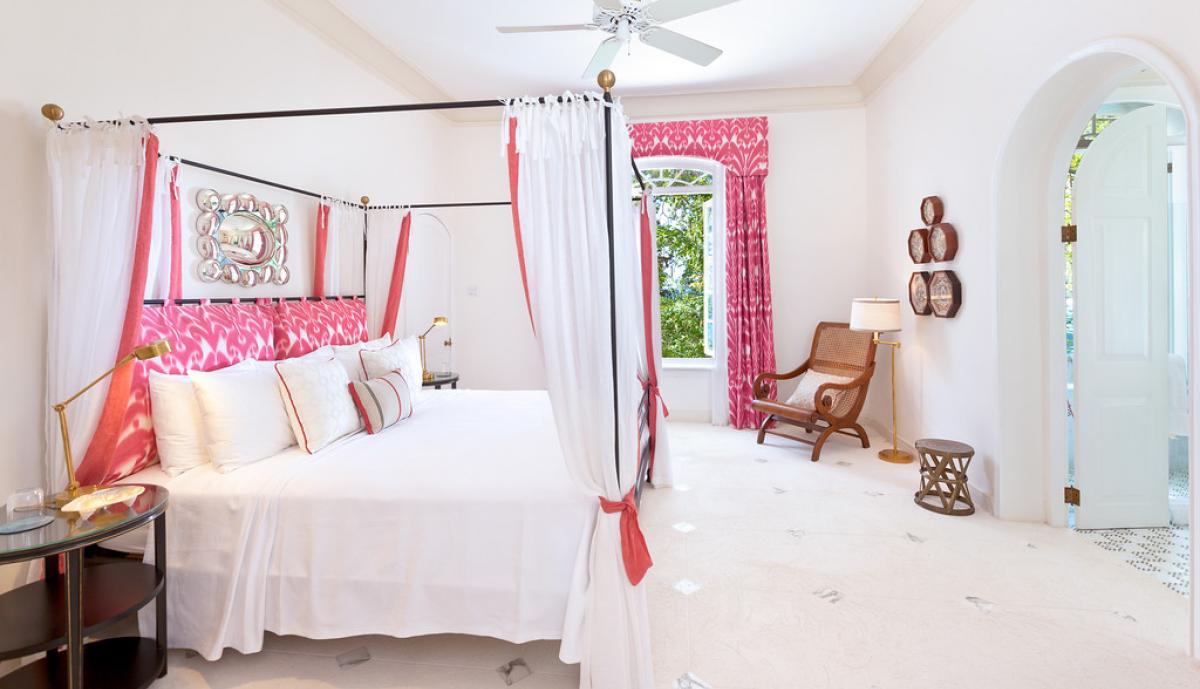 Oliver Messel designed some of the most sought after homes in Barbados. His style was theatrical and romantic. Thankfully the renovations to this beautiful home are sympathetic and in keeping with Messel's unique, dreamy style.
There is a heated infinity pool at the property. It also offers a fabulous air-conditioned home cinema with theatre style chairs.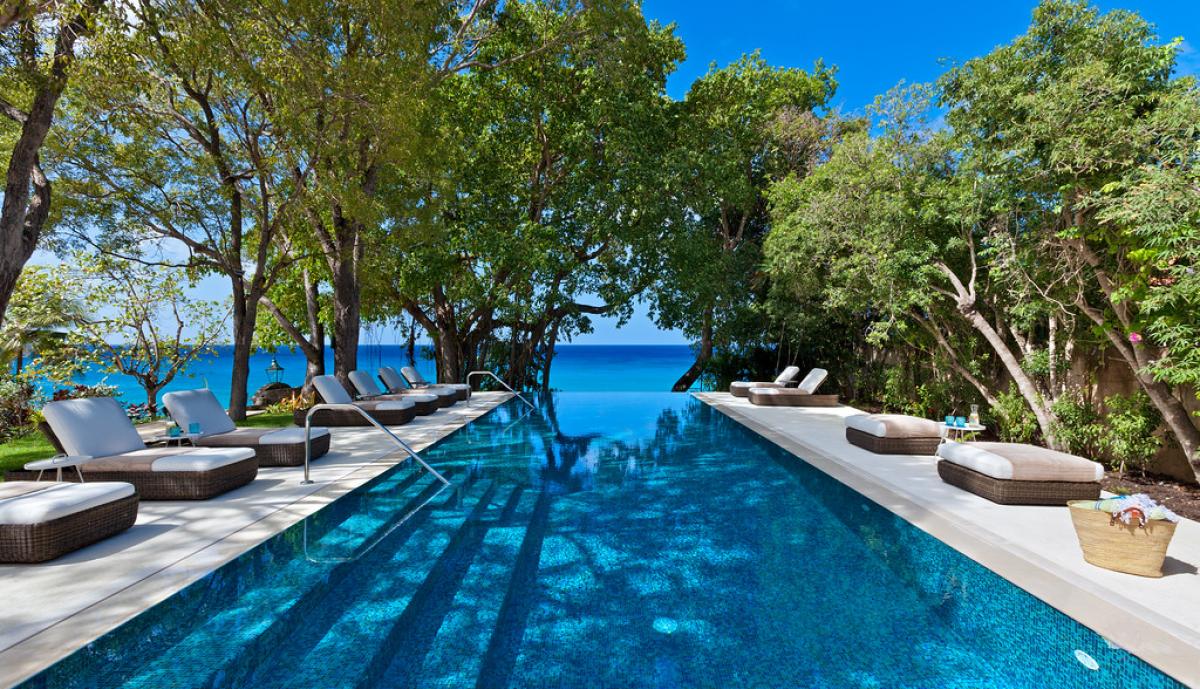 For those who enjoy keeping fit there is also a gum. This is equipped with Techno gym equipment.
This wonderful Barbados home comes fully staffed. There is a butler, cook (with assistnat), boatmaster, houskeepers and laundresses. The staff will ensure that your stay will surpass you every expectaion.
Prices for this property start range from US$7,245 to US$12,650/night
To see more information on Crystal Springs click here.
ST HELENA
St Helena is a classical 5 bedroom villa with a gorgeous 3 bedroom cottage. It is located on the beach just minutes from Holetown. St Helena is just steps away from the calm clear waters of the west coast of Barbados. It accommodates up to 16 guests and is one of the best beach villas in Barbados.
All the amenities, restaurants, shopping and amenities of Holetown are less than a 5 minute drive away.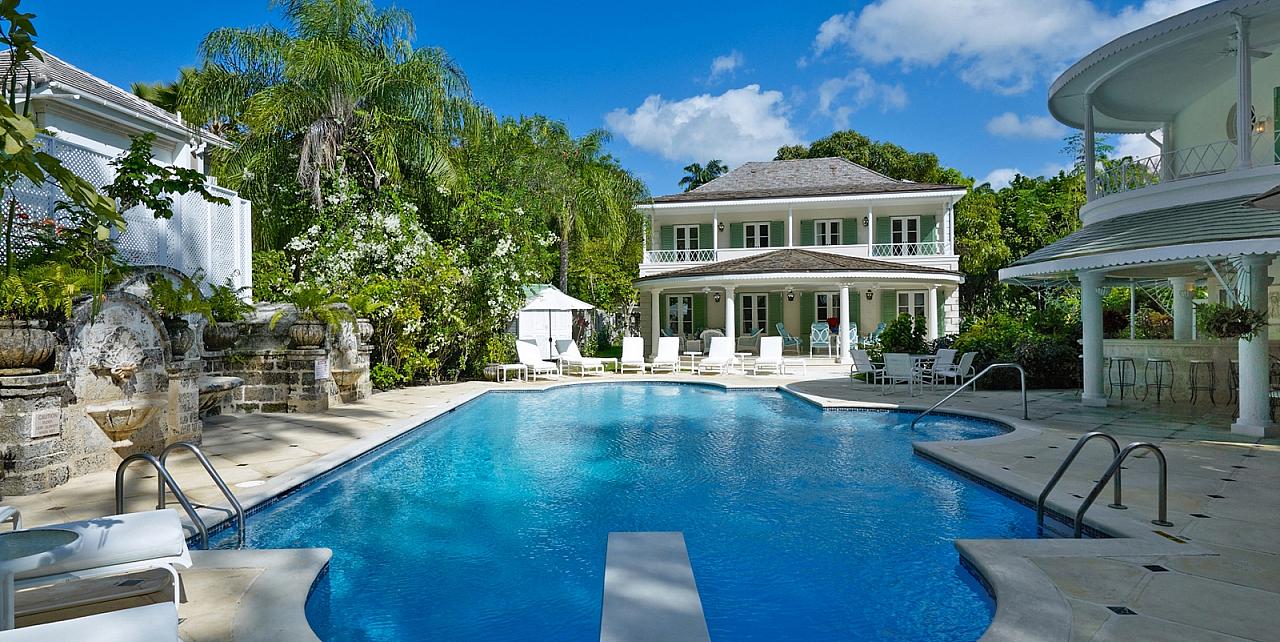 St Helena Barbados is tastefully and comfortably furnished. It was also originally designed by the late Oliver Messel and its most recent renovations were completed by renowned local architect Larry Warren.
As you enter St Helena on the ground level there are two attractive sitting areas which lead out onto a covered dining terrace that overlooks the lovely tropical gardens.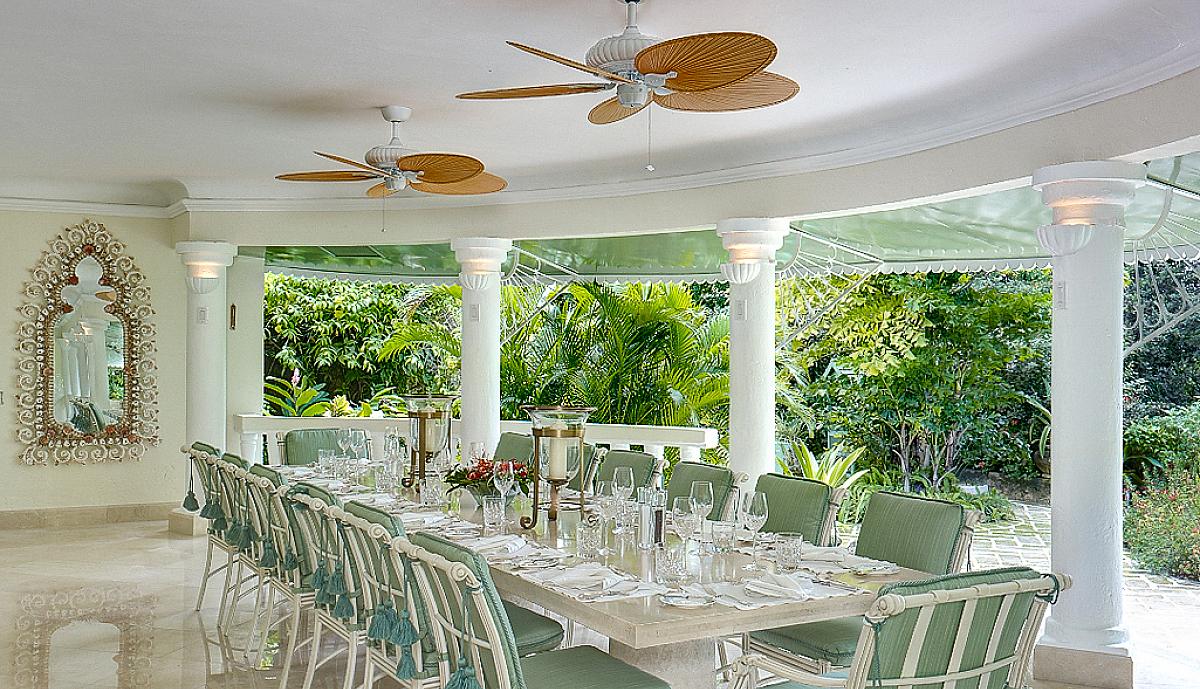 Two of the five ensuite bedrooms are downstairs as well as the wonderfully large private swimming pool. There is a spacious pool deck, bar and al fresco dining area.
The pool deck is partly covered and features beautiful fountains carved from the islands' natural coral stone. Thereis also a spa pool which is nestled within the gardens ensuring privacy.
The other 3 bedrooms are situated upstairs and they all lead out on to a semi-circular veranda. This has a spacious relaxing area plus bar overlooking the lush gardens and Caribbean Sea beyond.
The grounds at St Helena have plenty of areas to sit, relax or dine. There is even an alfresco dining gazebo close to the beach entrance. There are also some unique features such as a lily pond and an aviary which houses 250 homing budgerigars.
The new 3 bedroom cottage at St Helena – has 2 bedrooms upstairs both en suite bathrooms – 1 downstairs, living room and a Kitchenette. It has an extensive terrace overlooking the pool!
For guests' further enjoyment, the villa rental includes water-sports with boat and toys for an hour each day
To see more information on St Helena click here.
THE GREAT HOUSE BARBADOS
The Great House is a magnificent eight-bedroom coral stone classical villa. It is located on the beach between Speightstown and Holetown and sits on approximately one and a half acres of lush grounds. This is another of the best beach villas in Barbados.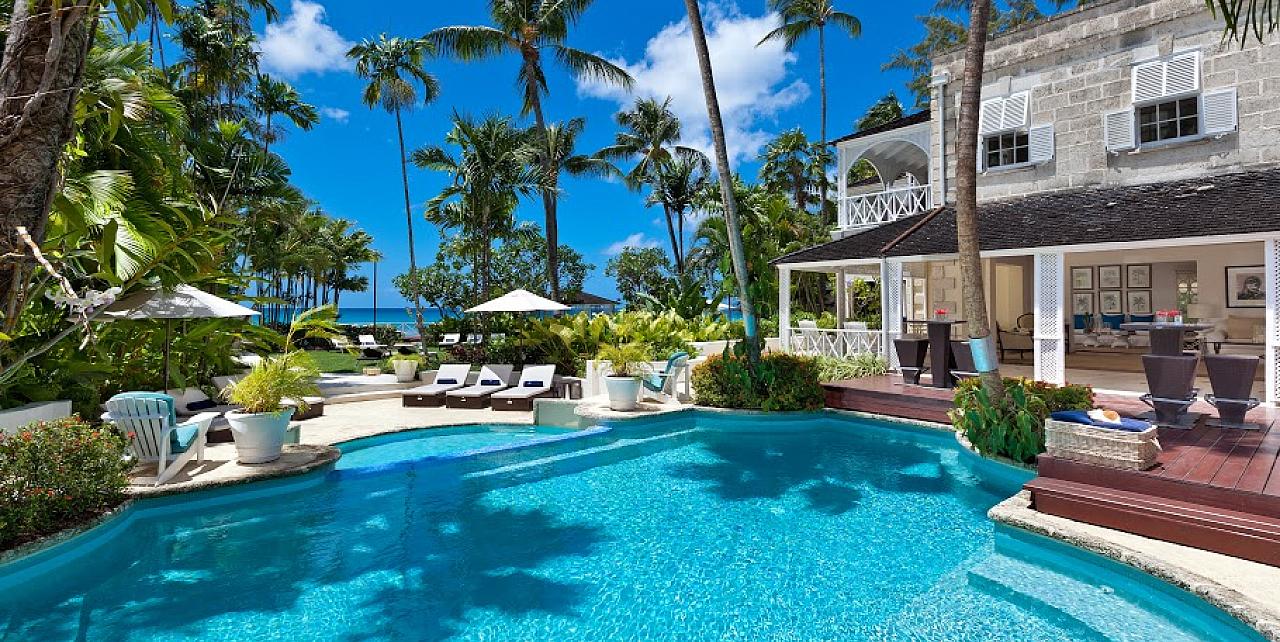 The ground floor of the main house features a spacious entrance hall, reception rooms, bar, piano room, wrap-around covered terraces and one bedroom suite. Three additional bedroom suites are located on the upper level, accessed via an elegant, sweeping staircase.

The three upstairs suites have private balconies and the ground floor suite opens onto a cobbled courtyard.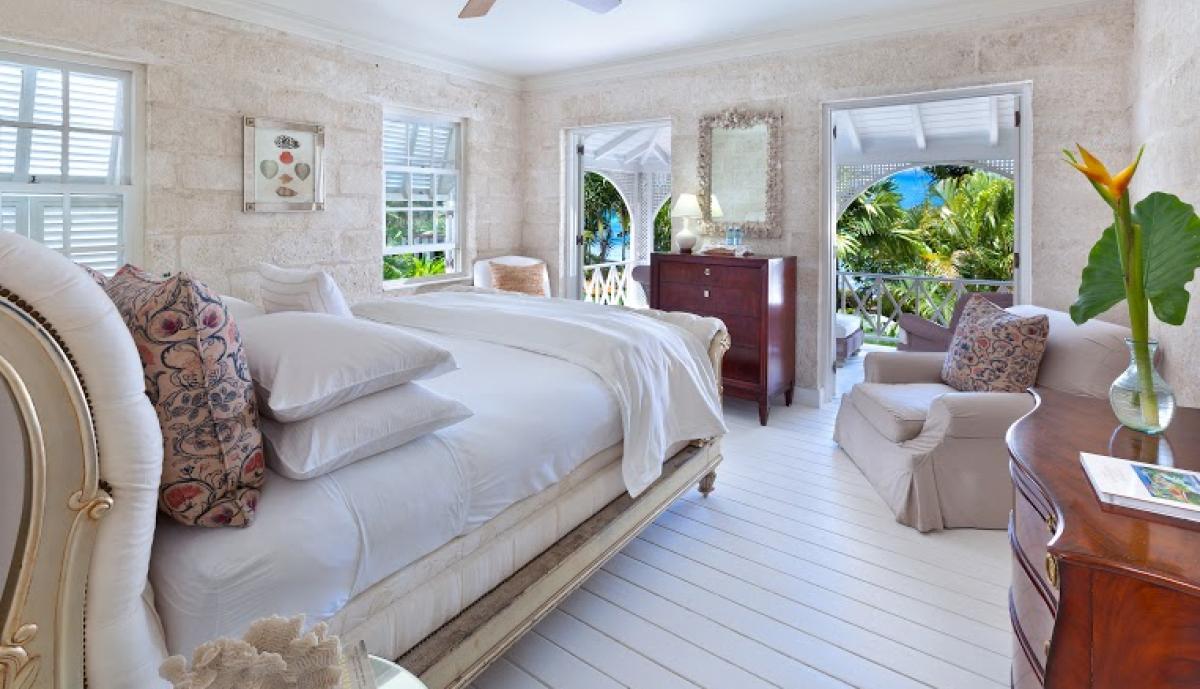 Nestled amid the grounds are four charming one-bedroom chattel houses, arranged in two interlinked pairs. Like the suites in the main house, each chattel house has an en suite bathroom with walk-in shower, as well as air conditioning.
The pool area is the focal point of this lovely estate. Next to the pool is a fabulous pool side bar and and entertaining room. It is wonderful for parties and celebrations.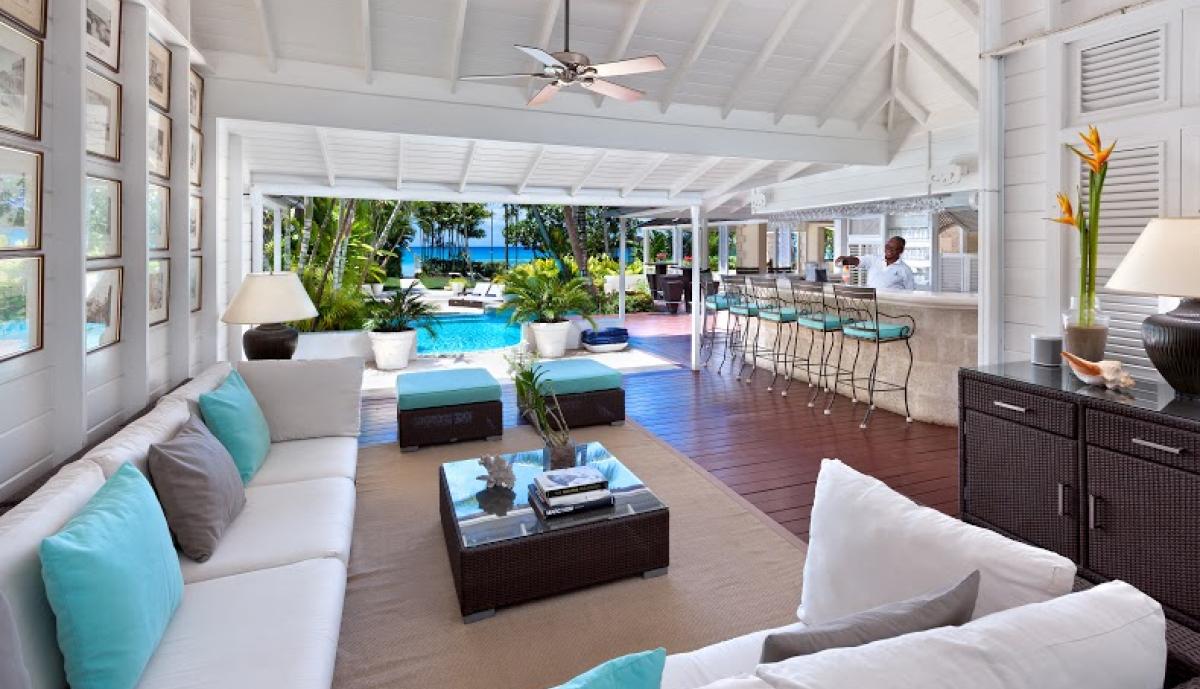 Service from the staff at the Great House is second to none. The villa manager keeps this magnificent home running like clockwork. For those who love dining at home and entertaining at home this property is hard to beat.
It comes with use of the Great House boat and boat captain. Guests often spend each day on the boat and picnic at different beach spots on the island.#
One of the loveliest things about the Great House is the variety of dining areas. Guests can dine in different areas for breakfast, lunch and dinner.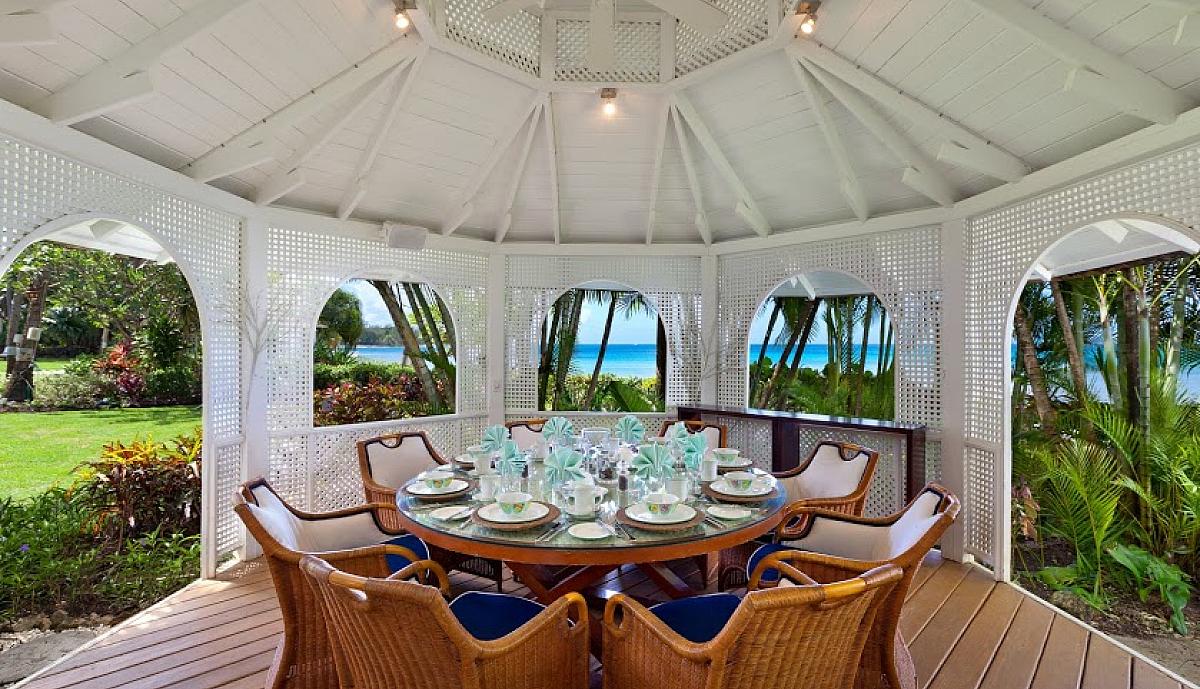 The Great House is perfectly located. The platinum-sand beach is mere footsteps away. The waterfront cafes, art galleries and fine dining options of historic Speightstown are also easily accessible. This is one of the best beach villas in Barbados.
To see more information on the Great House click here.
If you would like to talk to a member of our team about the other best beach houses in Barbados contact us. We will be happy to talk to you about other holiday rentals in Barbados too.
Barbados: +246-432-6307
Email: [email protected]
Barbados : Indigo Courtyard, Holetown
UK:40 Knutsford Road, Alderley Edge, SK9 7SF