Beachfront villas in Barbados for rent
BEACHFRONT VILLAS IN BARBADOS FOR RENT
We have a huge selection of beachfront villas in Barbados for rent for rent.
If you are looking for beachfront villas in Barbados for rent visit Barbadosbeachhouses.com
Here is a small selection of what is available.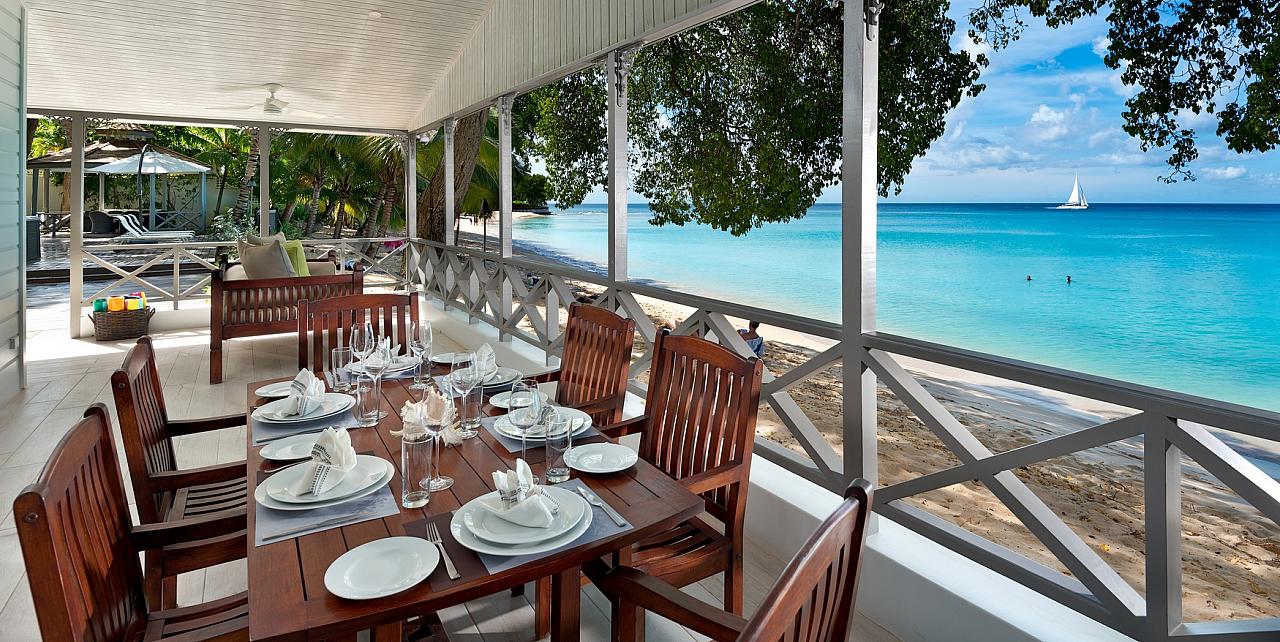 La Lune is a dreamy, romantic villa just a few steps from one of the best beaches on the west coast of Barbados. Sit back and relax and your cook/housekeeper will look after your needs
La Lune, sits on the shores of the beautiful Gibbes Beach. It is located on the West Coast of Barbados nestled amidst mature tropical gardens.
This 2 bedroom beachfront villa has been beautifully renovated. It sits on an extensive 3/4 acre plot and enjoys uninterrupted views of the Caribbean Sea.
As you meander along the paved pathway through this beachfront oasis you will be presented with a sprawling 200 foot deck area right in front of the beach.
La Lune is one of our favourite villas in Barbados. Few properties have the charm, simplicity and beachfront location of La Lune. It is a romantic villa where you will enjoy the lush tropical garden, the picture perfect deck and the gentle waves of the Caribbean Sea lapping against the shore just a few steps away.
Bedroom 1- Master suite with super king size bed, spacious wardrobe and en-suite bathroom featuring marbe and beach glass tiling and a rain shower,
Bedroom 2 - On the opposite side of the villa - can be twin with single beds or a king - cozy bathroom with a claw foot bath and shower
Allows flexibility for 2 couples of a family
La Lune is equipped with Apple TV and Sonos, and there is also a security alarm.
La Lune is rented with the services of a cook/housekeeper.
If you are interested in La Lune contact us today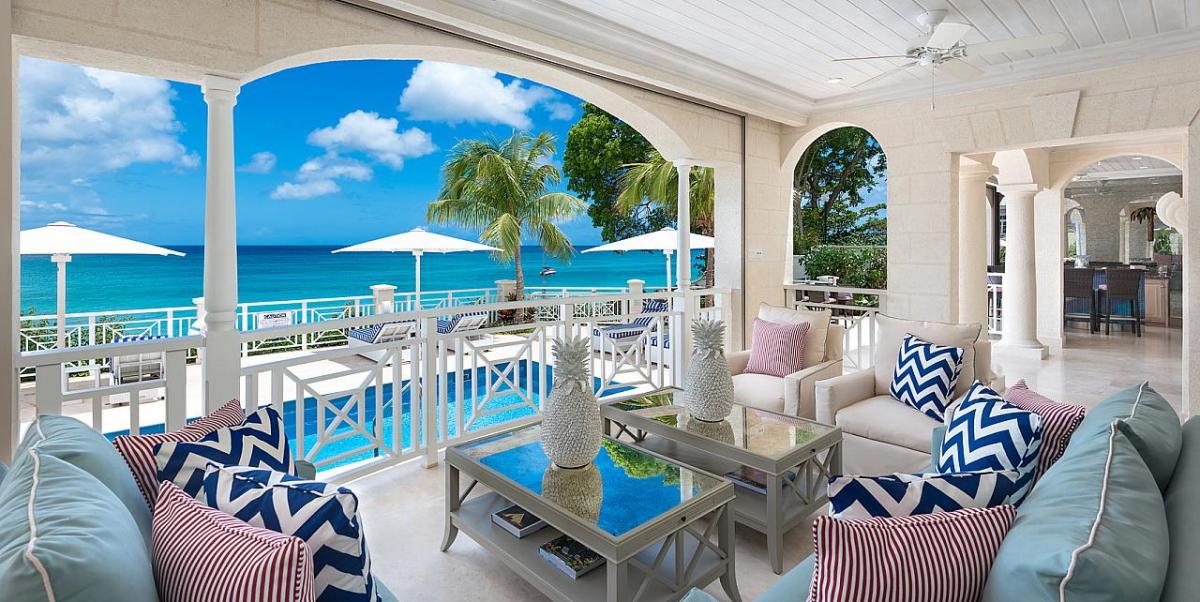 Blue Lagoon is one of newest and most prestigious beachfront holiday villas for rent in Barbados. It boasts a prime west coast location in the exclusive Garden Area. This is often referred to colloquially as 'Millionaire's Row'. After undergoing a complete re-build the villa now offers approximately 12,000 square feet of space. It is rented with the services of a chef, housekeeper and laundress.
The accommodation offers 5 bedrooms overall. There are 4 ocean view bedroom suites in the main part of the villa. There is also a separate cottage with 1 bedroom plus staff quarters (possible 6th bedroom on request an extra cost).
This stunning villa has been delightfully furnished in a contemporary style throughout. The bespoke decor brings a stylish feel to the open-plan, impeccably designed bright interiors.
Blue Lagoon offers touch-based control throughout. There is also a Sonos sound system, air-conditioned gym and spa. There is also a theatre and games room with billiards/pool table. For those who need it, there is also an office.
The villa layout provides extensive indoor-outdoor living areas. These look out on to the beautiful Caribbean sea right in front of the villa. There is formal or casual dining on the covered terrace which can seat up to 10 guests.
The living area frames the breath-taking view. You can gaze through floor to ceiling glass at the calm, turquoise waters in front.
The staff at Blue Lagoon Barbados will take care of you to ensure you have the villa holiday of a lifetime.
The villa is a short drive from Holetown. Here you will find excellent shopping and a variety of restaurants, bars and cafes. Some of Barbados' finest restaurants are just a 5 minute drive away. Historic Speightstown is less than a 15 minute drive away. For those who enjoy golf Blue Lagoon is a short drive from Royal Westmoreland, Apes Hill and Sandy Lane golf courses. There is also polo at Royal Westmoreland and Apes Hill.
Blue Lagoon is one of Barbados' most desirable, beachfront hideaways. It is a popular choice for friends or families travelling together.
If you are interested in Blue Lagoon contact us today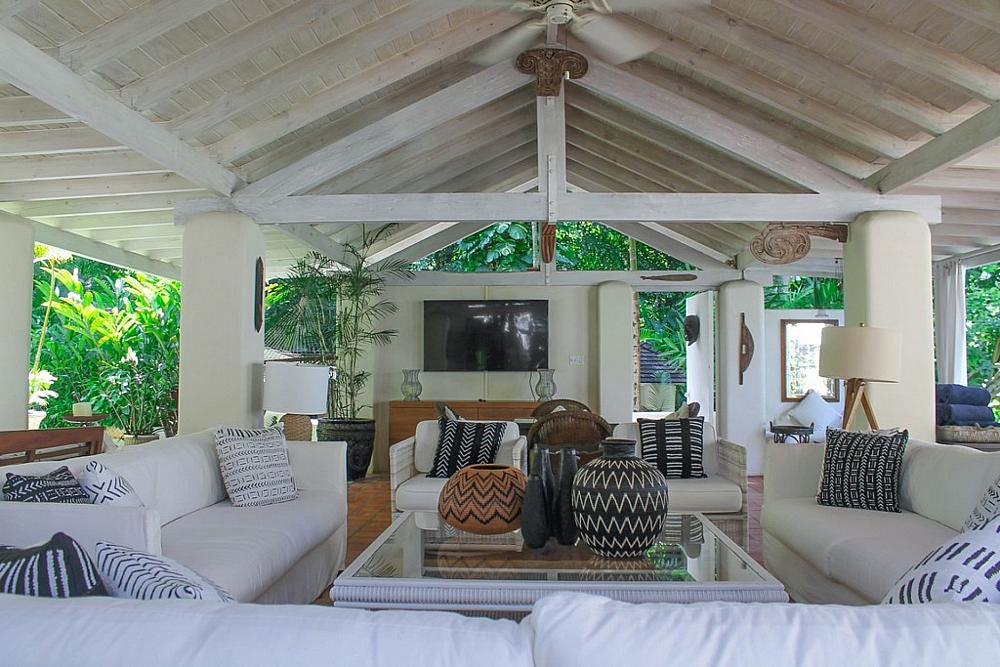 Landmark House is a unique 4 bedroom villa with access to the white sandy west coast beach. Landmark Cottage offers a further 2 bedrooms. Fully staffed.
Landmark House is located on the Sandy Lane estate on the west coast of Barbados. It is set within spacious private tropical gardens and has a path at the end of the garden which leads directly to the beautiful white sandy beach.
To compliment the traditonal coral-stone architecture of Landmark House its open plan interior design brings outdoor living inside. Pleasant sea breezes are distributed by colonial-style overhead fans.
From the living area you sit on the comfortable sofas. From here you can see the turquoise waters of the Caribbean through the lush foliage. This 4 bedroom luxury villa is located at the northern end of the exclusive Sandy Lane Beach. This is popular for its excellent swimming and view of the bay.
In the gardens of Landmark House is a separate dining pagoda,. This is a lovely spot. Follow this with a night-cap of the famous Bajan rum served by the butler. He has been with Landmark House for many years and will ensure your stay is a relaxing and hassle free.
Landmark House offers four air-conditioned bedrooms with en-suite bathrooms and sea views. Three are located on the ground floor level and the 4th bedroom is on the first floor. Keeping with the theme of bringing the outdoors in, some of the bedrooms have an indoor/outdoor showers too.
Access to the shops and restaurants in Holetown on the West Coast of Barbados is a short drive or a 10 minute walk away.
If you are interested in Landmark House contact us today
This is a very small selection of our beachfront villas in Barbados for rent. If you are looking for beachfront villas in Barbados for rent then contact us today
For long term rentals in Barbados visit longtermrentalsbarbados.com
For properties to buy in Barbados visit barbadosdreamproperties.com