4 bedroom villas in Barbados
4 BEDROOM VILLAS IN BARBADOS
If you are looking to rent 4 bedroom villas in Barbados, Java Bay is a delightful Balinese style Caribbean home. It is one of the most popular 4 bedroom villas in Barbados. It actually has 5 bedrooms however the fifth room is a single small room. It is on the ground floor and air-conditioned. It is ideal for a nanny or a young child.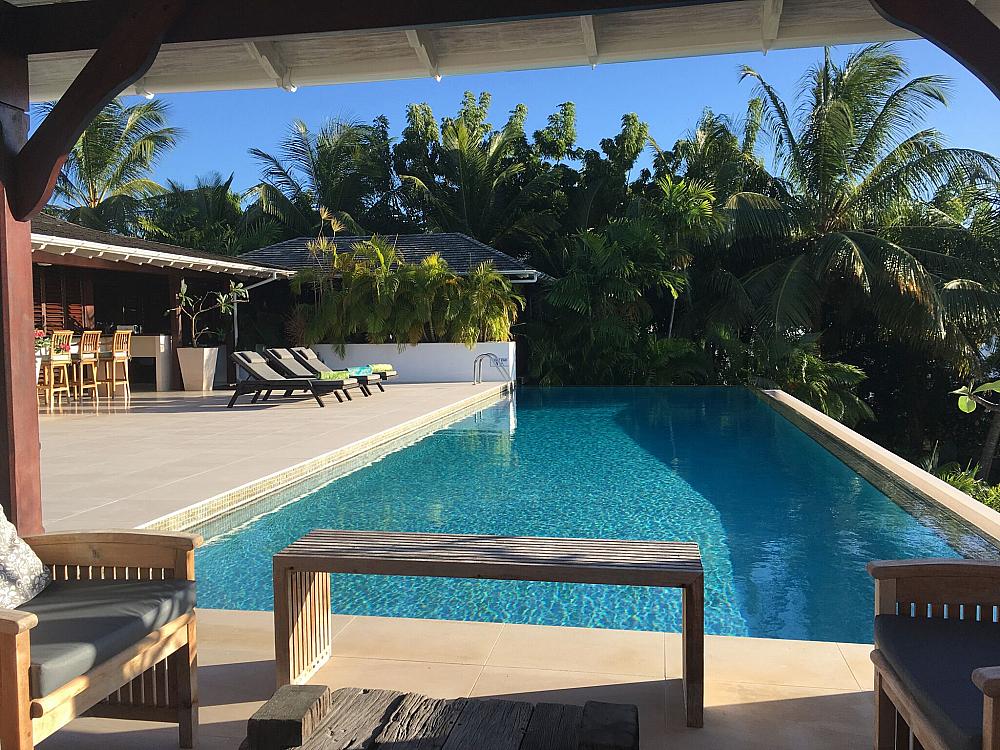 Java Bay has been renovated recently. It has stunning 180 degrees views over the Caribbean Sea and west coast of Barbados.
Java Bay is a unique property offering open plan luxury living. It is situated on a 3/4 acre ridge plot within the gated Calijanda Estate. It is just a few minutes drive from the west coast beaches and from all the amenities of Holetown.
This luxury villa has an indoor/outdoor living concept. It has peaceful water features ad a large terrace and infinity pool
From here there are breathtaking views of the Caribbean Sea. The terrace is the perfect place to relax and enjoy the magical sunsets.
There are two double air conditioned bedrooms on the ground floor. These include the master bedroom that features an outdoor courtyard bathroom. Here is a huge oval 2 seater bath tub. Relax in a hot bath whilst savouring the ocean views yet enjoying the privacy provided by the high walls.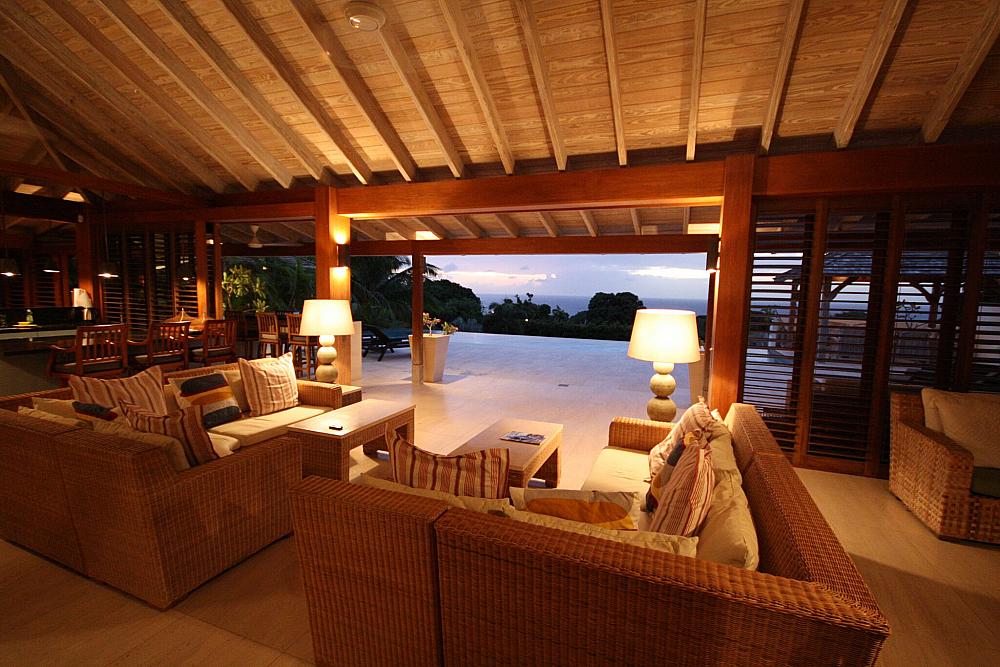 There is a third single air conditioned bedroom on the ground floor which is ideal for a child or nanny.
On the first floor are a further two double air conditioned bedrooms. These can also be made up as twin beds. They both have ensuite bathrooms. Both enjoy oblique sea views from the cleverly designed windows.
There are fabulous west coast beaches just a few minutes drive away. Historic Holetown is also just a few minutes drive away.
Java Bay is the perfect place for a truly great holiday offering relaxation and tropical comfort.
For more information on Java Bay click here
Coco de Mer is a luxury villa located on the prestigious Sandy Lane estate. It is one of our loveliest 4 bedroom villas in Barbados. It has sweepng views to the Caribbean Sea.
Coco de Mer has 4 double bedrooms all with air conditioning and en suite bathrooms.
It is a calming villa set in beautiful, mature gardens with a large private swimming pool and spacious pool deck.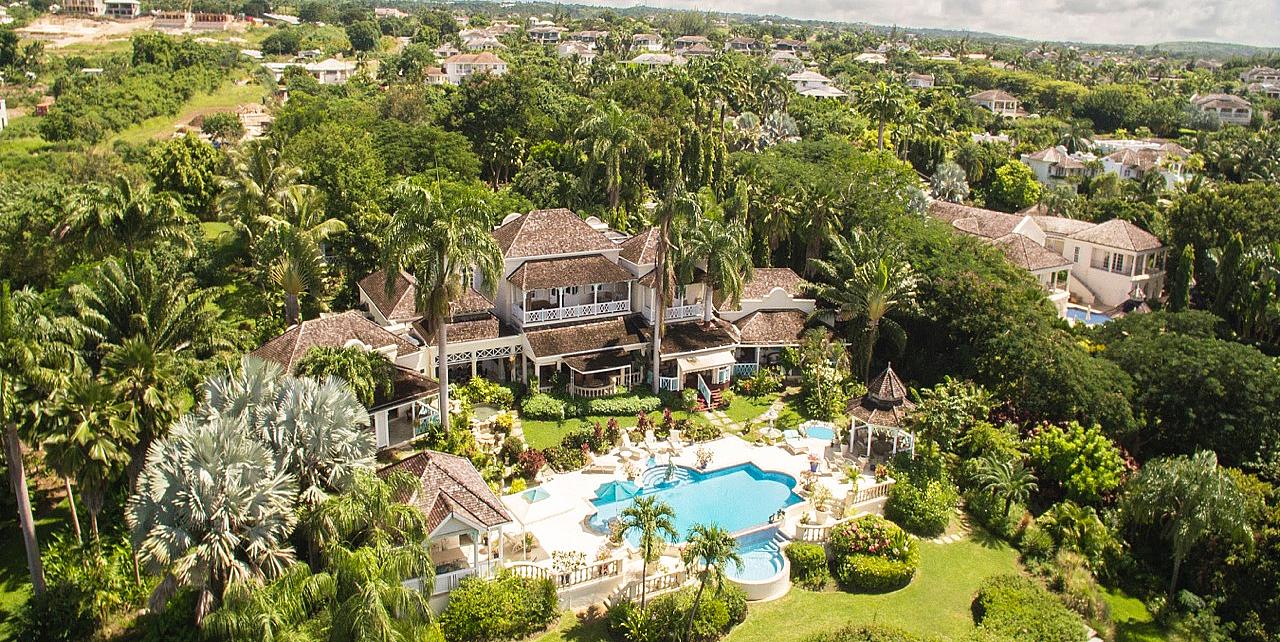 Coco de Mer is rented with wonderful staff who will look after your every need. These include cook, housekeeper and laundress.
Residents of Coco de Mer may use the Sandy Lane tennis courts and the beach at the Sandy Lane owner's club.
The main reception opens to a covered terrace which overlooks the infinity-edged swimming pool. This is connected to the dining room by a bridge over a koi pond.
The dining room is open on two sides which enable you to enjoy the tropical atmosphere. The gorgeous expansive dining table is the centre piece of the room and has been carved from local coral stone.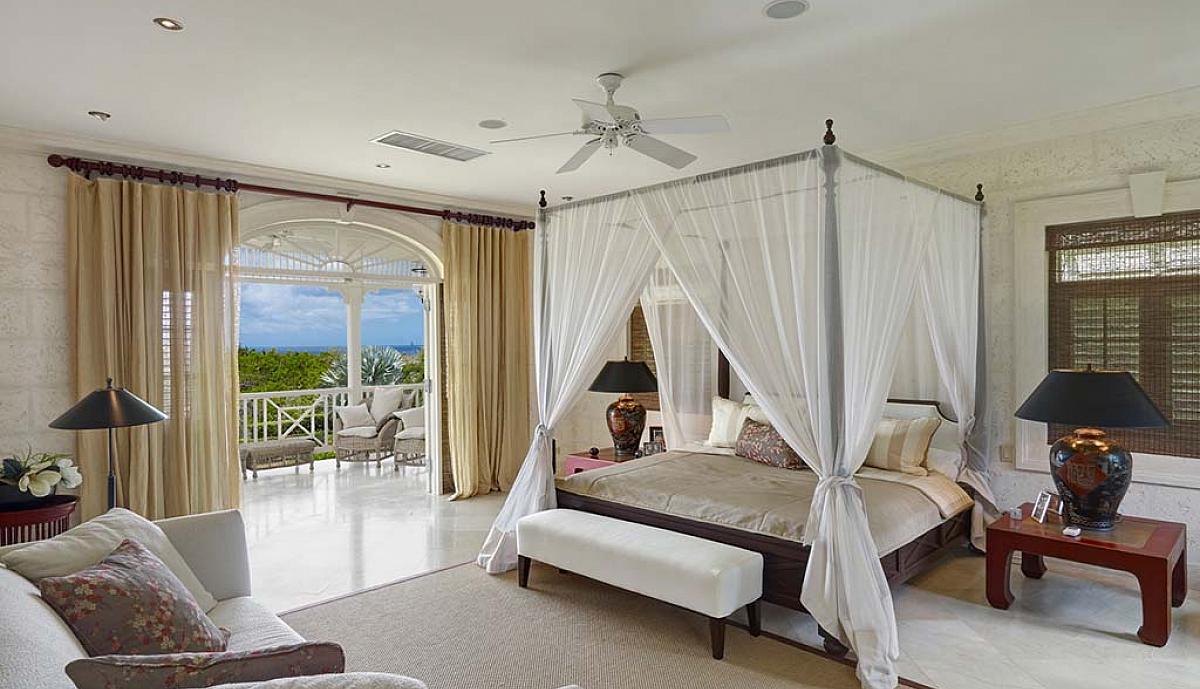 There are two guest bedrooms with en suite bathrooms and a media room on this level.
A fourth bedroom can be found in a separate cottage by the pool.
Coco de Mer is a tranquil, luxury home which offers a little piece of paradise on the wonderful island of Barbados.
If you are interested in Coco de Mer or any of our other 4 bedroom villas in Barbados contact us today
For further details of Coco de Mer click here
Heronetta is another of our most popular for those looking to rent 4 bedroom villas in Barbados.
Although Heronetta has 5 bedrooms it is often taken by those seeking 4 bedroom villas to rent in Barbados. It is one of the very few beachfront villas in Barbados on Sandy Lane beach.
We love
the extensive English style grounds
which are a gardener's delight.
When you step through a small gate you will find the warm waters of the Caribbean Sea.
The swimming pool with its lovely poolside gazebo is a place you simply won't want to leave
This 5 bedroom Barbados villa is set in four prime acres of land with 110 yards of beach frontage, This is a lovely home with it own large swimming pool. It provides spacious beach front living.
There are two ensuite, air conditioned bedrooms in the main house.
The other three bedroom suites are positioned in the delightful cottages set in the grounds of the main house. There is also a separate room suitable for a babysitter or nanny.
The extensively landscaped English style gardens are mature and well maintained. They enclose the property to ensure guests enjoy peace and privacy. A real oasis of Caribbean tropical gardens.
Villa Heronetta Barbados has a large and inviting swimming pool with a separate pool house. It also has its own floodlit tennis court which is ideal for those wishing to play on a balmy evening.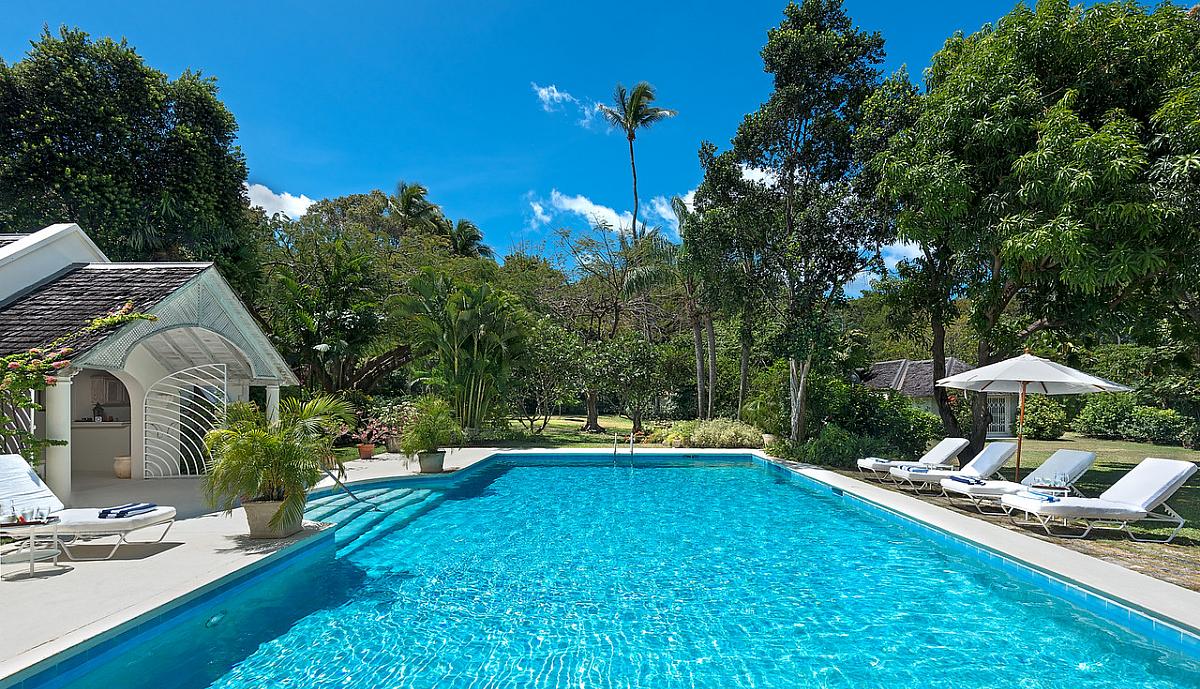 An added feature of this luxury Barbados villa is the private cabana on Sandy Lane Beach. Guests have access to the cabana and during their stay may store beach and watersports equipment there.
This villa is ideally located. It is close to some of the best beaches on the west coast. There are many excellent golf courses nearby and it has its own tennis court. Guests may also use the tennis courts of the Sandy Lane hotel. Guests also have access to the Sandy Lane owners beach facility. Here, they may use sun loungers and the lunch facilities.
Villa Heronetta is also just a short drive from Holetown where there is excellent shopping at the Limegrove Lifestyle Centre. There is even a luxry cinema there and wonderful restaurants close by.
If you are only interested in beach front villas visit barbadosbeachhouses.com
For villas in Sandy Lane visit Sandylanevillasbarbados.com
For villas anywhere in Barbados visit Barbadosdreamvillas.com
Atelier House is a stunning contemporary home which was built in 2012 and finished with simple, elegant materials. It is one of the limited number of contemporary 4 bedroom villas in Barbados.
The double-height living area maximises the beautiful views of both the infinity edge swimming pool and the Caribbean Sea beyond.
In addition to the ground-level terraces and 32 x 27 ft. pool there is a large roof terrace and mezzanine-level study offering stunning views of the West Coast. The villa is surrounded by a half-acre of gardens featuring indigenous palms, lilies, bougainvillea and many flowering shrubs. This garden is access via the large and secure gate which also has parking for several cars.
Two kitchens imported from the UK, with worktops and island made of white granite. With one of Kitchens in the pavilion and the other at the rear of the villa- The Chef can entertain guests with his skills or prepare food in the rear kitchen allowing for a more intimate gathering in the pavilion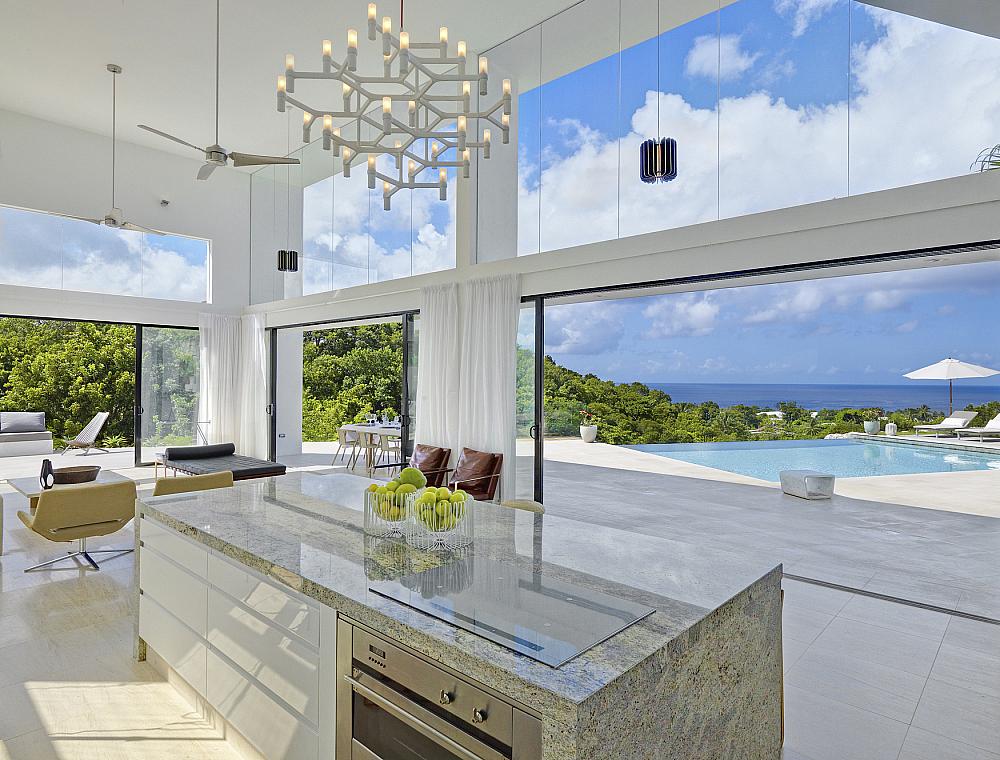 There are 4 bedrooms in this fabulous villa. The master bedroom upstairs has a beautiful balcony where you can watch the sunset over the glistening sea. The three guest bedrooms are all located on the ground floor. An en suite guest bedroom features an enclosed outdoor shower. The two additional guest bedrooms share a bathroom between them.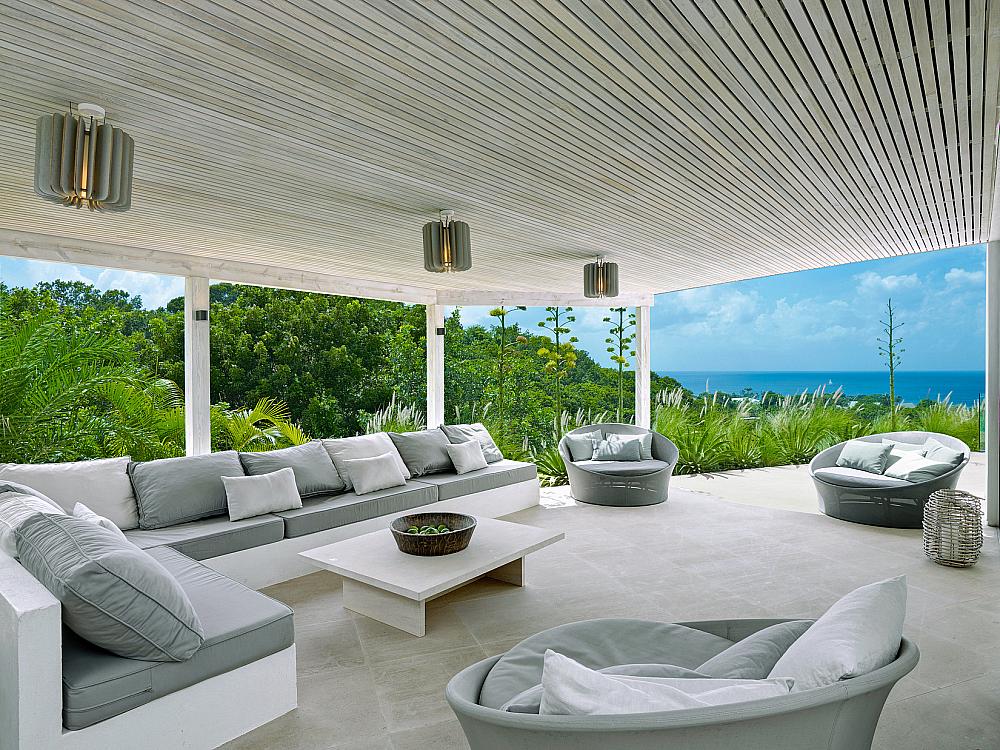 For more information on Atelier House click here
We have a large collection of 4 bedroom villas in Barbados. Just contact us today.
For details of other 4 beroom villas in Barbados visit our websites barbadosdreamvillas.com or worldwidedreamvillas.com
For 4 bedroom villas in Barbados on the beach visit Barbadosbeachhouses.com
For long term rentals in Barbados visit longtermrentalsbarbados.com
For properties for sale in Barbados visit barbadosdreamproperties.com