Where to Eat in Barbados
WHERE TO EAT IN BARBADOS
Are you wondering where to eat in Barbados? Barbados has an eclectic selection of bars and restaurants. You can enjoy everything from Bajan sticky chicken from a beachside shack to quiet candlelit dinners and ocean- side five star cuisine. We have put together our pick of the top ten restaurants on Barbados. If you are wondering where to eat in Barbados here are some of our favourite restaurants.
---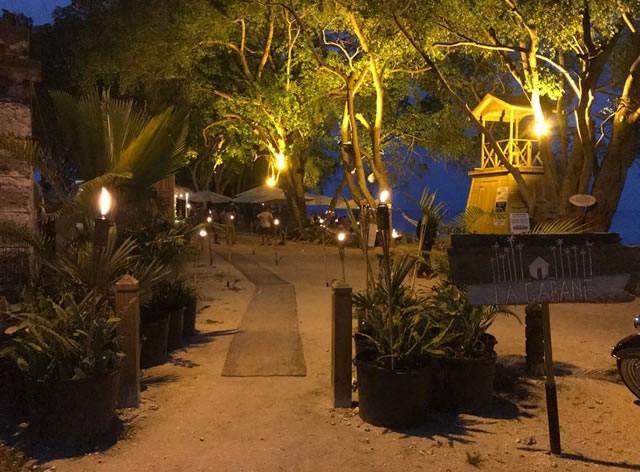 La Cabane
Tel : +1-246-256-2131
Email: [email protected]
La Cabane is a fabulous 'feet in the sand' beach bar restaurant. It is located at Batts Rock on the west coast. The menu is written on a surf board and consists of a small selection of dishes made from fresh local organic ingredients. These are cooked Mediterranean style. Fresh fish, barbequed chicken, steak and pork and a selection of tasty salads. There is music playing and a fun laid back vibe. The mixologists offer a wide selection of cocktails. Perfect for sunset. Try the bean bag sofas on the sand or the swings at the bar. There is even a hammock on the beach. Sit in a comfy director's chair at your table and just relax and enjoy the ambience and the fresh produce. This is a fabulous way to spend a Sunday or any lunch. Also good for a laid back dinner. Hard to find a better low key beach bar restaurant in Barbados. Highly recommended.
See Menu Details. See Tripadvisor Reviews.
Whilst it is fun to enjoy the wonderful upmarket food and setting of the restaurants above, sometimes it is just as fun to enjoy a more low key local experience. If you are looking for that sort of experience and don't know where to eat in Barbados we recommend:
Bombas Beach Bar at Mullins. A small, simple chattel house restaurant on the beach. Simple fresh food including chicken and fish with a new vegetarian option every day. Service can be slow so only go if you are not in a hurry and want a local experience in a sea front setting. See Tripadvisor reviews.
Ju Ju's near Lone Star. Popular, scruffy laid back beach bar on the water. Food can be good (but not always)-service is hit and miss but the location is wonderful and it is fun and feels very local. See Tripadvisor reviews.
Lemon Grass in Lime Grove shopping centre, Holetown. It serves extremely tasty and reasonably priced Thai food. See Tripadvisor reviews.
Mullins Beach Bar at Mullins. A fun, lively place right on the beach. Great for kids. Relaxed atmosphere with great views of the sea and reasonable prices. Ideal for laid back lunches. See Tripadvisor reviews.
Little Bristol Beach Bar in Speightown. Happy people, simple food, music and a beachfront, unpoilt and rustic ambiance.
Zaccios in Holetown. This was a favourite of our kids when they were little and it was then called Cocomos. Brightly coloured tables. Large restaurant right on the beach with a good beach bar and some tables on the water. Great for families and kids. Kids can run and play on the beach after their meal. Extensive menu with chicken, fish, pizza, rotis etc. Not too expensive. Lovely, fun spot for a sundowner. See Tripadvisor reviews.
Surfside in Holetown. A sports beach bar. Friendly staff, ok food, right on the water with sun beds available too. See Tripadvisor reviews.
Spago on Second Street in Holetown. Small, friendly Italian style restaurant offering delicious food at reasonable prices. Nothing fancy. Best to try to get a table on the small terrace so you can watch the world go by. See Tripadvisor reviews.
Jumas, Speightstown. Lovely setting overlooking the beach. Good for lunch and dinner. Simple local food including pumpkin soup and rotis. Mixed reviews. Romantic setting in the evening with lava lamps lighting up the beach. See Tripadvisor reviews.
Oistins Fish Fry, Christchurch. See Tripadvisor reviews.
The Roti Den, Paynes Bay. We think these are the best rotis in Barbados but you generally have to take away. Not much room to sit. See Tripadvisor reviews.
Cutters on the East Coast near the Crane Hotel. If you are heading over to the east coast stop by at Cutters. A rustic chattel house with amazing home cooked food including pizza and macaroni pie. Best rum punch on the island. Service can be a little slow but we think it is worth the wait. They will even do pizzas to go to take down to Crane beach or to have delivered to you on Crane beach. See Tripadvisor reviews.
The Atlantis, St Joseph. A great place to spend a Sunday when they do the Caribbean fixed price buffet. A huge array of local dishes. We particularly enjoy the fishpot. Rustic setting with wonderful views of the east coast waves crashing in.
For more advice on where to eat in Barbados contact us. We will be delighted to help.