Family villas to rent in Barbados
FAMILY VILLAS TO RENT IN BARBADOS
There are so many fabulous family villas to rent in Barbados. We have chosen 2 of our favourite family villas to rent. Contact us here if you wish for information on other fabulous family villas to rent in Barbados.
VILLA MELISSA
Villa Melissa is one of our most popular family villas to rent in Barbados. This 5 bedroom villa is ideally ocated in Queens Fort on a quiet cul de sac. Located just a few minutes drive from Holetown and just a 3 minute walk from the beach. Villa Melissa comes with 3 double bedrooms in the main house and 2 double bedrooms in the magnificent cottage. The master bedroom in the cottage is probably the best room in the house! The master in the main house is gorgeous too.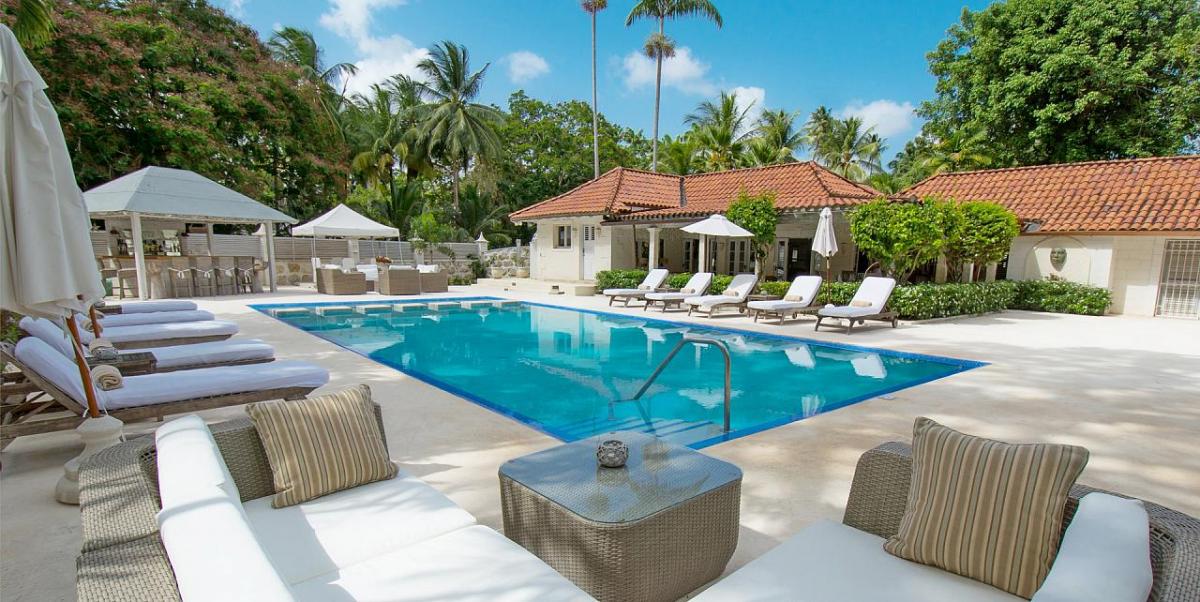 Villa Melissa has a lovely mature garden and, if they wish, guests in the cottage may enjoy their own privacy away from guests in the rest of the house. They even have their own furnished terrace. The cottage has 2 en suite, air conditioned bedrooms with an interconnecting door. It is ideal for a couple with children whilst perhaps their parents or friends with other children occupy the other lovely bedrooms in the main house. The cottage also has its own kitchen.
The image above is the beautiful master bedroom in the cottage. The bedrooms in the cottage have original coral stone walls and vaulted ceilings and are full of character. They have a very romantic feel.
Villa Melissa is just a short 3 minute stroll to the beach down a delightful beach path shown below.
Villa Melissa comes staffed with butler, cook and housekeeper. This is included in the rate. Patricia is a wonderful cook. She will provide you with menus so that you can choose what you would like her to cook. If you prefer dishes that are not on the menu Patricia will be happy to do her best to accommodate you and your children.
Kids enjoy playing in the large pool with its dedicated shallow end which is perfect for young children. Adults enjoy the lovely rustic outdoor bar located next to the pool. The butler will be happy to make cocktails of your choice there or if you prefer feel free to make your own. This is the perfect place to relax in the shade during the day or to enjoy a cocktail at sunset.
If you fancy a few minutes out of the sun relax in the air-conditioned media room at Villa Melissa and watch something on Netflix.
After a cooling drink at your very own bar if you fancy lounging on the beach or swimming in the sea take a short stroll down the sandy beach path where the turquoise Caribbean Sea awaits you. If you're lucky enough you may even see turtles hatching at the end of the beach path.
Relax on the beautiful beach. Colony Club, Heron Bay and Coral Reef are a short walk away and if you turn right, depending on the tide, you can walk to Lone Star Restaurant.
Prices for Villa Melissa start from US$1,095 per night.
Click here to see more about Villa Melissa.
Contact us now for further information.
PRUDENCE

Prudence is a newly built 8 bedroom family home to rent in Old Queens Fort Barbados. It is ideally located just a 3 to 4 minute stroll from the beach and less than a 5 minute drive from Holetown.
Prudence may be rented on an 8 bedroom basis or on a 5 plus bedroom basis. There are 5 double en-suite air conditioned bedrooms in the main house and 3 double air conditioned bedrooms in the cottage. One of the bedrooms in the cottage is en-suite and the others share a bathroom.
One of the beauties of Prudence is that it has 2 master bedrooms in the main house making it ideal for 2 families who wish to share.
There are wonderful places to dine both in the gazebo, in the garden or at the coral stone table on the terrace of the main house.
As well as an extensive living room and terrace with seating and coffee table there is a fabulous media room.
Prudence comes with butler, cook and housekeeper included in the rate.
There is a formal dining area too so you will be spoilt for a choice of places to eat when staying here.
C:ick here for more details on Prudence.
Prices start from US$1,434 per night.
Contact us today to book or for more information on family villas to rent in Barbados.
We have a large selection of family villas to rent in Barbados.
If you only want beach front properties to rent in Barbados look at our associated site /www.barbadosbeachhouses.com/
If you would like to rent a property in Sandy Lane take a look at our associated site sandylanevillasbarbados.com