Barbados villas with chef
If you are looking for Barbados villas with chef look no further.
Most of the villas and apartments to rent for holiday rentals include a housekeeper. Many others also include a chef and laundress. Some even include a butler. We have many Barbados vacation villas with chef and other staff for you to choose from.
Imagine taking your family and friends on holiday and not having to lift a finger with the cooking. Just decide what you want to eat when and leave the rest to the chef and waiting staff.
You don't have to book a huge expensive villa to benefit from the services of a chef. We have many smaller villas and apartments that come with a chef. For those that don't we can make arrangements for a chef to be provided.
If you have a special party in mind there are some larger, special houses that absolutely excel with their chefs and catering abilities. Here are a few special Barbados villas with chef:
The Great House, Barbados never disappoints. For those looking for Barbados villas with chef there are few properties that match The Great House.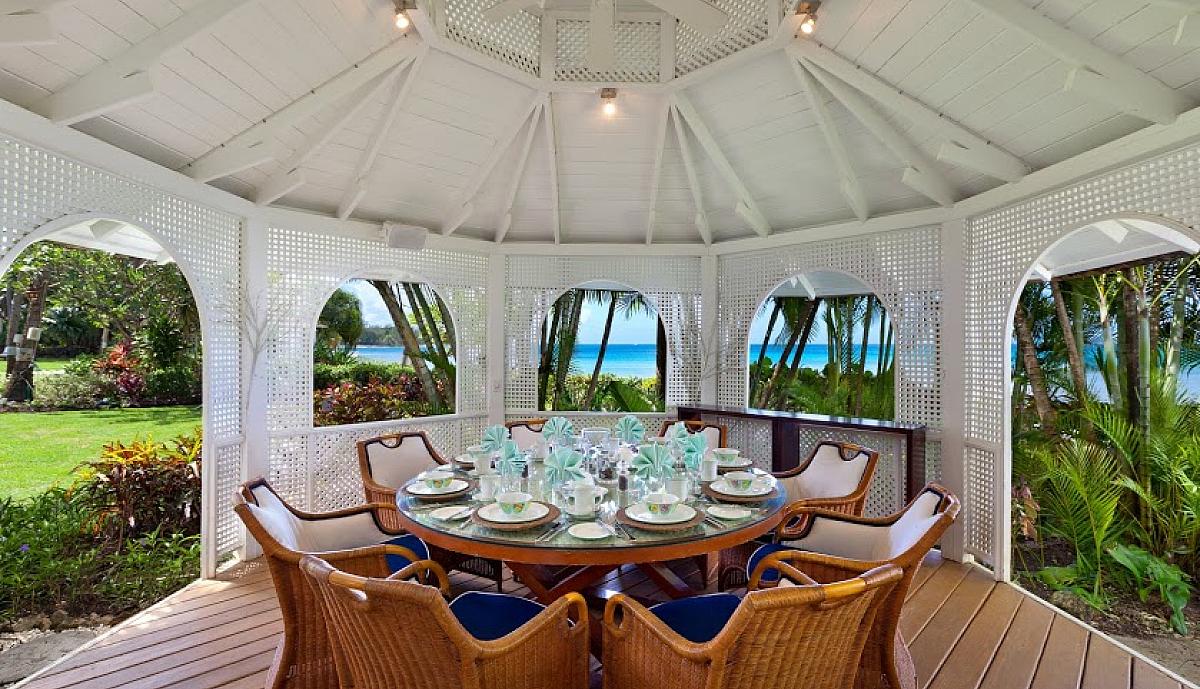 Located right on the beach on the west coast of Barbados this is a wonderful classical coral stone home. It provides ideal accommodation for up to 16 guests. There are four double en suite air conditioned rooms in the main house. A further four double en suite room are in the gardens in two quaint chattel style houses each of which has two air conditioned en suite bedrooms in it.
There are many wonderful spots to eat at The Great House. From the formal dining room which seats up to 20 persons, to the gazebos and lovely dining areas in the garden under the stars.
The menus are many and varied and the food is always fresh and tasty. Cressida who runs the Great House is an absolute star and will make sure thate her team of 12 staff look after you every need and those of your guests.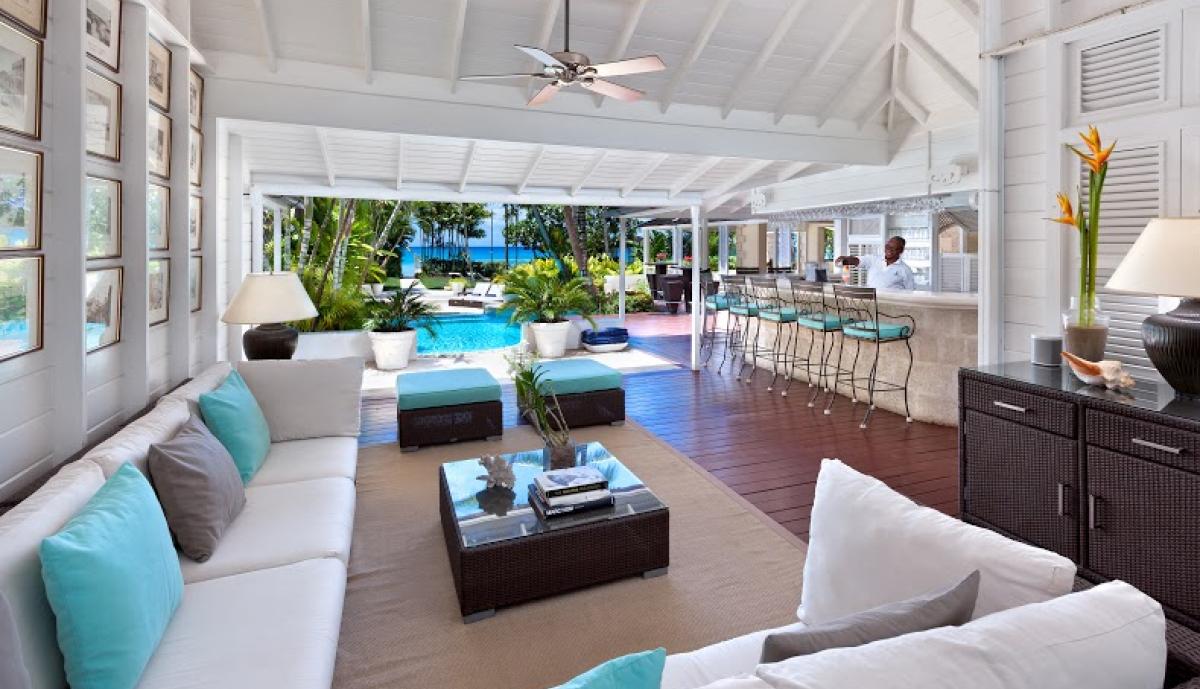 Sit around the beautiful bar next to the swimming pool and enjoy games in the game area. This is the perfect party spot.
There is even a motor yacht available with skipper to take you and your house guests to lunch or for a picnic on one of the lovely west coast beaches.
Fewer homes in Barbados offer the culinary delights and service of the Great House.
This wonderful home comes with house manager and a team of 12 staff including chef, butlers, laundress, gardeners and security.
You will not be disappointed.
Rates for the Great House start from US$6,223 per night (US$389 per person per night based on full occupancy).
For more information click here.
High Breeze is another of our lovely Barbados villas with chef.
High Breeze is beautifully designed and furnished 5 bedroom home with stunning panoramic ridge views over the Caribbean Sea.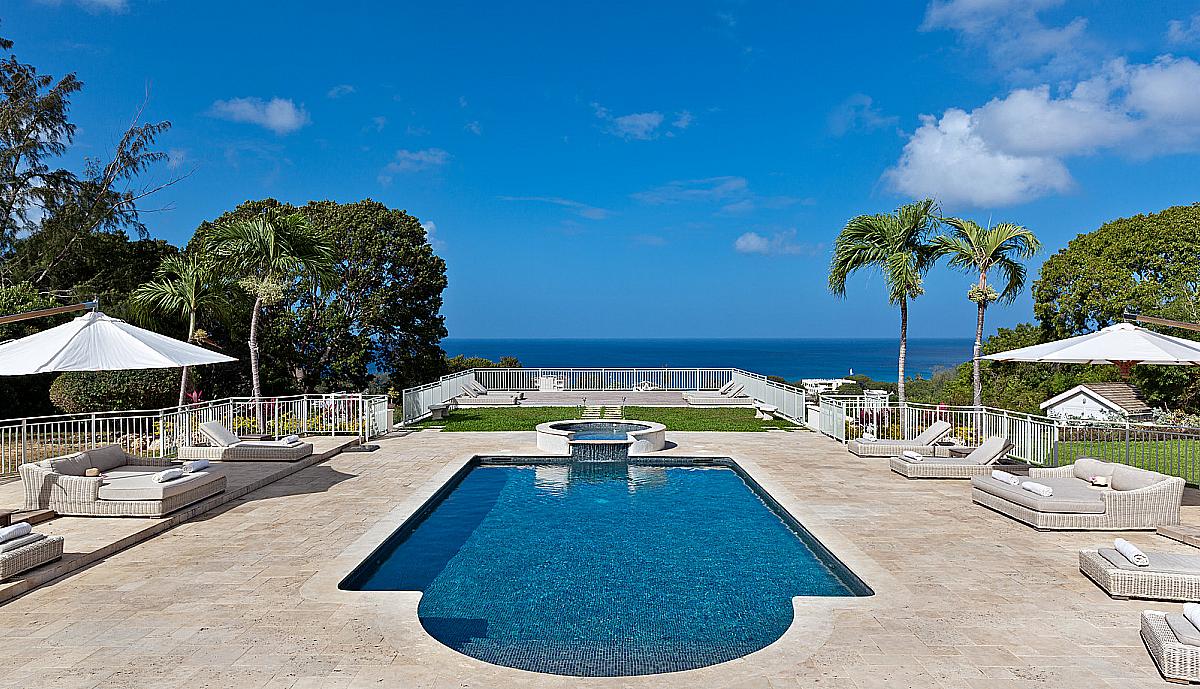 High Breeze rents from a 3 to 5 bedroom basis.
It comes with a full complement of staff including cook, butler, housekeeper/laundress and gardener. They will look after your every need.
Guests may also use the beach facility at Royal Pavilion Beach where sun loungers and parasols are provided. There is a lovely casual beach restaurant there and it is also a short walk away from the renowned Lone Star restaurant.
We have a number of repeat guests who love High Breeze because it is so tastefully designed. They also love to entertain there. However, they all say they love the pool area and view so much they rarely choose to use the beach facility! It is always good to know it is there though.
Rates for High Breeze start (on a 3 bedroom rental) from US$1,175 per night (US$392 per person per night).
For more information on High Breeze click here.
Crystal Springs is simply one of the most beautiful, romantic beach front homes in Barbados. It is one of our most stunning Barbados villas with chef.
With 10 double en suite air conditioned bedrooms and an indoor cinema, gym and 'secret beach' there are few properties to rival this one. It even comes with its own boat and skipper for use by guests.
Crystal Springs was originally designed by world renowned Oliver Messel. It has recently been refurbished by its current owner. Its current owner rented it every Christmas for approximately 20 years before the opportunity arose for him to buy it. He has done a magnificent job of renovating Crystal Springs to its former glory.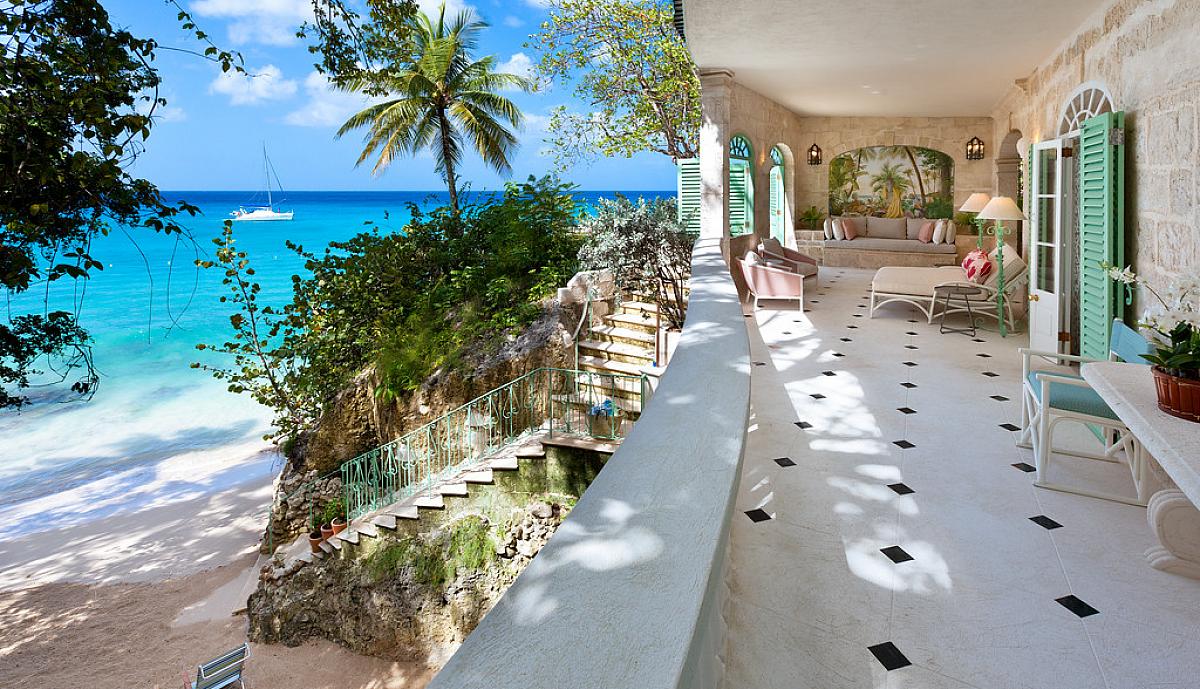 With its Messel green shutters and railings and trompe d'oeil on its walls there are few more exquisite homes in Barbados.
With so many divine places to eat you and your guests will be spoilt for choice. The team of staff will look after your every need. You will feel very special indeed staying here.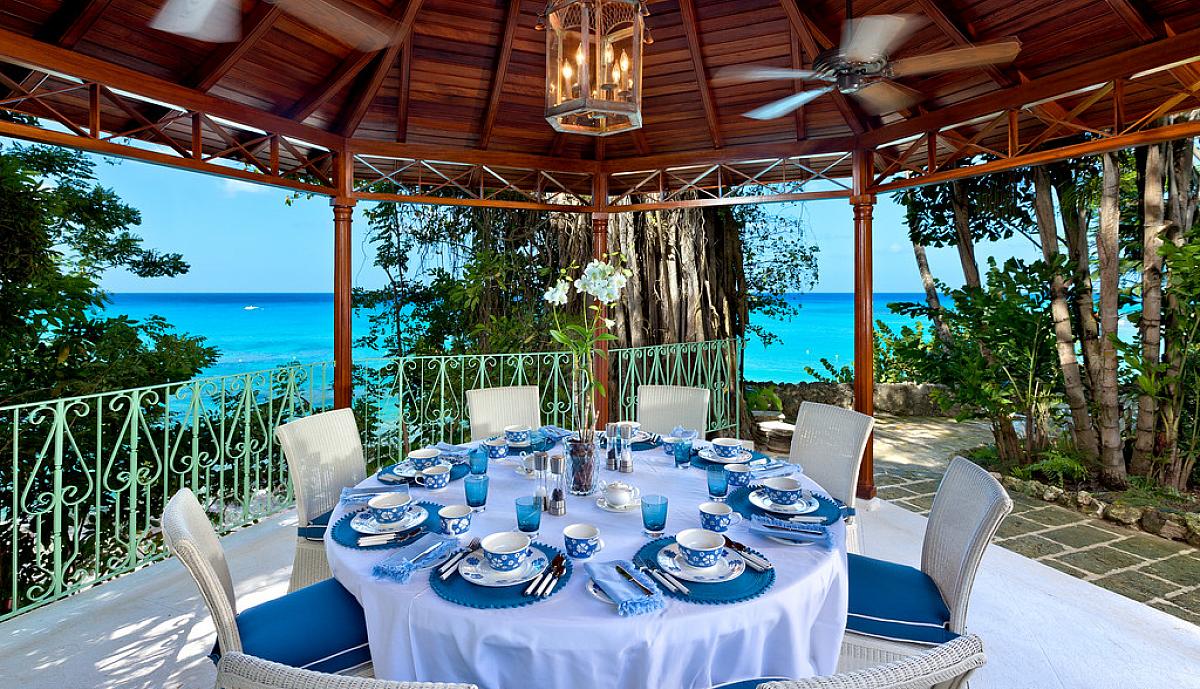 For romantic al fresco evenings with friends try dining in the gazebo. This is also a lovely spot to take breakfast or lunch.
Alternatively, try the formal dining room which is so romantic with wonderful light reflecting from its coral stone walls.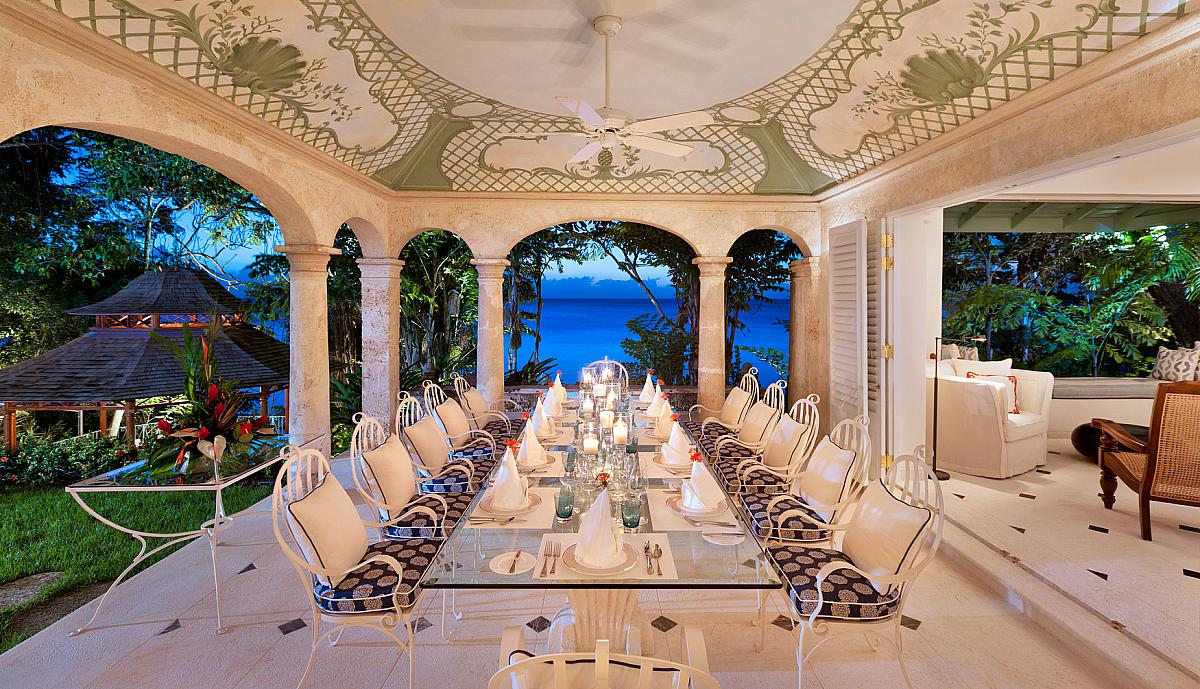 You can even eat right by the sea on the beautiful coral stone terrace.
This lovely home is the perfect place to celebrate that very special occasion. It comes with a property manager who will manage all details of the villa and who will be happy to make your concierge arrangements.
There is a chef and assistant cooks, 2 butlers, 4 housekeepers, 2 laundresses, a boatman and 2 night time security guards.
Book this luxury villa and create some memories of a lifetime.
Prices start from US$7,245 per night for 7 bedrooms. You can book on a 7, 8 or 10 bedroom basis.
For details of more Barbados villas with chef contact us today.
Barbados: +246-432-6307
Email: [email protected]
Barbados : Indigo Courtyard, Holetown
UK:40 Knutsford Road, Alderley Edge, SK9 7SF
For more information on Crystal Springs click here.
If you are interested in long term rentals in Barbados visit longtermrentalsbarbados.com
For properties to buy visit barbadosdreamproperties.com